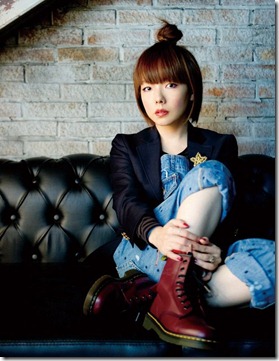 Popular singer aiko will release her latest single "Zutto" (Much, ずっと) November 23rd. Its aiko's 29th single and the title track is featured as the theme for television drama series Mitsu no Aji – A Taste of Honey –. Sporting a casual new look with Doc Martins and for the CD jackets yellow Doc Martins with a long pleated skirt and pullover hoody, aiko is looking calm and prepared for the chill of Fall.
More details and jacket covers on jump,
---
The new single will come in a First Press edition with an eight page photo booklet and when those run out a Normal edition with a different cover and no bonus.
In a recent poll fan by Entertainment Weekly magazine aiko (35) showed she still is very popular ranking #5 most popular music artists. She ranked #1 in the 2005 & 2006 versions of this popularity poll.
First Press edition

Normal edition


[CD]
1. Zutto (Much, ずっと)
2. Mabataki (Wink, 瞬き)
3. Nukegara (Husk, ぬけがら)
4. Zutto (off vocal)

[Bonus]
Photo booklet (8p)

[CD]
1. Zutto (Much, ずっと)
2. Mabataki (Wink, 瞬き)
3. Nukegara (Husk, ぬけがら)
4. Zutto (off vocal)
Source and images: natalie