November 29, 2011
-
toyNN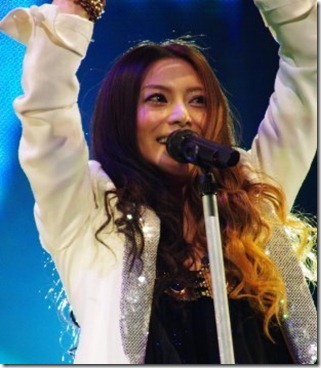 Singer and actress Shibasaki Kou, 10 years after her debut, has held her first live concert at the Nippon Budokan, November 28th. This was the final performance of her 17-stop tour supporting her latest album, "CIRCLE CYCLE." Details and pictures follow,
Shibasaki performed 27 songs in total most from her latest album but also "Tsuki no Shizuku" (released under the name of "RUI"), "Saiai" and "KISS shite" from KOH+'s (a unit of Shibasaki and Fukuyama Masaharu), and from her newest unit, galaxias! she also performed "Boys & Girls."
During "Philosophia", Shibasaki asked the audience, "Everyone here today, all are different, but I want us to make this place as one big circle, so please join your hands with the person next to you." All the fans responded and began joining hands, Shibasaki with tears in her eyes responded, "You all are united as one now! Thank you for showing me this wonderful sight. I love you Budokan!"
At the end of the concert, Shibasaki enthusiastically cheered, "This has been really fun and I will never forget the sight of everyone joining hands."
The concert footage will also be re-shown on WOWOW, December 23rd at 9:00pm.
Source: Oricon