November 12, 2011
-
toyNN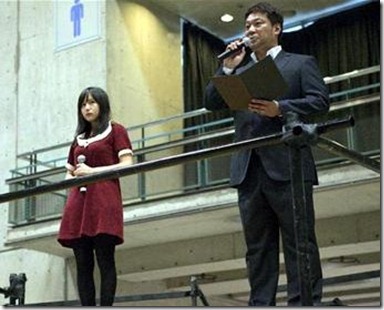 Oba Mina made a surprise and tearful appearance at the AKB48 hand-shake event November 12th at Makuhari Messe in Chiba held to celebrate their current single, "Kaze wa Fuiteiru." When Oba made her appearance the Hall was filled with a huge cheer. She tearfully apologized to the large number of fans that were there and expressed her hopes that she can return to AKB48 next year.     Images and more from Oba follows,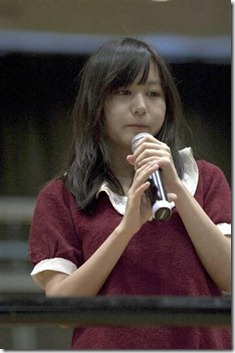 Team 4 captain Oba Mina had been suspended this past September from AKB48 when past website entries before she was part of AKB48 revealed a boyfriend and possible underage drinking.
Oba addressed the audience, "I have caused great problems for all the members of AKB48. I was not seeing the reality and only putting forth half-hearted overtures of penitence. For that I am truly sorry." Then a tearful Oba bowed deeply.
She continued, "Honestly I think I was quitting…retiring crossed my mind. However in the past 2 months working on this with AKB I realized how much all of AKB48 relies on you. I can not say that I'm qualified to be a member next year but please let a member of teamT4 work with me, Thank you." The largest applause of the day came from the fans when Oba finished.
Source and images: sanspo