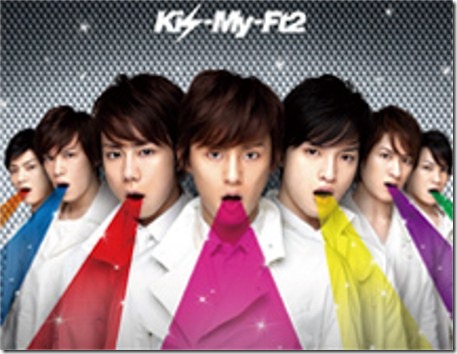 Kis-My-Ft2 is releasing their 3rd single "SHE! HER! HER!" in just a few days on March 21st and a week later they'll release their first album "Kis-My-1st" (release details). Early details on the new single were posted here and updated details follow,
The title track "SHE! HER! HER!" is now used in promotional CM for glico's "Watering KISSMINT" and the Limited edition includes footage from the CM.
The single comes in 3 editions, a Limited with bonus DVD of music video/off shoot for the title track as well as footage from the groups CM for glico "Watering KISSMINT", a Regular CD only edition that includes a b-side track "Deep your voice" that has become the theme song for Fuji TV's "Moshimo Tours", and a CD only version available only via the Kis-My-Ft2 Shop that includes a bonus poster.
Kis-My-Ft2 – "SHE! HER! HER!" – release date March 21st 2012
Limited A [CD+DVD] (¥1680)


Regular B [CD] (¥1050)


[CD]
1. SHE! HER! HER!

[DVD]
1. SHE! HER! HER! (music video)
2. SHE! HER! HER! (off shoot)
3. glico CM "Watering KISSMINT"
4. glico CM "Watering KISSMINT" (off shoot)
[First Press bonus]
Limited entry ticket for event

[CD]
1. SHE! HER! HER!
2. Deep your voice

[First Press bonus]
Limited entry ticket for event
Member poster 1 of 7

Kis-My-Ft2 Shop C [CD] (¥1050)

[CD]
1. SHE! HER! HER!

[bonus]
Limited entry ticket for event
glico "Watering KISSMINT" special poster