September 22, 2012
-
toyNN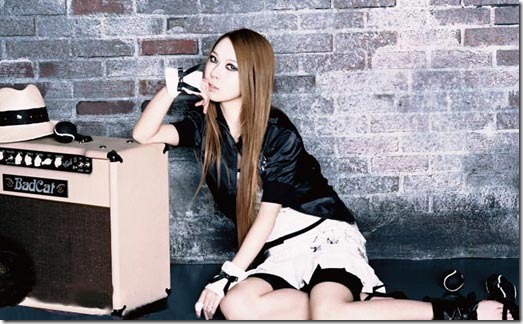 Tomoko Kawase (Tommy february6 & Tommy heavenly6) has announced a new mini-album "HALLOWEEN ADDICTION". The mini-album includes two previously released extended length songs and one new extended length song "Never Ending Party Night". The release comes in two editions and hits stores October 17th. Read on for more release information and pre-order link…
~ preview music videos exposed – here ~
Tomoko Kawase is the lead vocalist for band The Brilliant Green and also leads two solo projects as alter-ego Tommy february6 and Tommy heavenly6. Her three projects have produced several anime tie-in songs – Gintama's first opening theme "Pray", Gundam 00 themes – "Ash Like Snow" and "Unlimited Sky", Soul Eater – "PAPERMOON", and Bakuman – "monochrome rainbow".
Her most recent release on February 29th 2012 was a double album "FEBRUARY & HEAVENLY", half as Tommy february6 and half as Tommy heavenly6.
As Tommy heavenly6 which is a more rock/punk sound, Kawase will participate in the annual Halloween event "HALLOWEEN PARTY 2012" which is organized by visual kei band VAMPS. The event takes place on October 26th at Makuhari Messe and will include artists Acid Black Cherry, VAMPS, BREAKERZ, and others.
New mini-album "HALLOWEEN ADDICTION" comes in two editions,
– Limited with bonus DVD that includes 4 music videos, slip-case made in collaboration with fashion brand X-girl.
– Regular CD-only. First Press version adds slip-case made in collaboration with X-girl.
Tommy february6 & Tommy heavenly6 – "HALLOWEEN ADDICTION" – release date October 17th 2012
Limited [CD+DVD] (¥2100)


Regular [CD] (¥1300)


[CD]
1. Never Ending Party Night
a. opening
b. Carnival?
c .heavenly6 is Coming!
d. Toss the Summoner's Coin!
e. Story of Shadow light princess twins
f. Never Ending Party Night

2. Lollipop Candy BAD girl
a. intro
b. The Pumpkin's Forest
c. It's a Magical Party Mysterious Cake
d. Lollipop Candy BAD girl 1/2
e. Music Box Sweet Dream A
f. It's a Magical Party My Dream Will come True
g. Lollipop Candy BAD girl 2/2
h. Music Box Sweet Dream B

3. I'M YOUR DEVIL -Halloween Remix-
a. Who am I…? A
b. Royal Darkness Tea Party
c. Music box I'M YOUR DEVIL
d. I'M YOUR DEVIL
e. Be ready for the NIGHTMARE
f. Who am I…? B

[DVD]
1. Never Ending Party Night ~ Why don't you Come with me? (music video)
2. Never Ending Party Night ~ NEVER ENDING PARTY NIGHT (music video)
3. Lollipop Candy BAD girl (music video)
4. I'M YOUR DEVIL -Halloween Remix- (music video)

[CD]
1. Never Ending Party Night
a. opening
b. Carnival?
c .heavenly6 is Coming!
d. Toss the Summoner's Coin!
e. Story of Shadow light princess twins
f. Never Ending Party Night

2. Lollipop Candy BAD girl
a. intro
b. The Pumpkin's Forest
c. It's a Magical Party Mysterious Cake
d. Lollipop Candy BAD girl 1/2
e. Music Box Sweet Dream A
f. It's a Magical Party My Dream Will come True
g. Lollipop Candy BAD girl 2/2
h. Music Box Sweet Dream B

3. I'M YOUR DEVIL -Halloween Remix-
a. Who am I…? A
b. Royal Darkness Tea Party
c. Music box I'M YOUR DEVIL
d. I'M YOUR DEVIL
e. Be ready for the NIGHTMARE
f. Who am I…? B