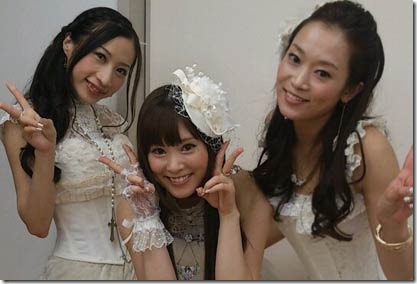 Kalafina has announced their 4th original album "Consolation". The album is planned to include their three singles "to the beginning", "moonfesta ~ムーンフェスタ~", "Hikari Furu", and new song "Yume no Daichi" that's featured as theme song for NHK TV show Rekishi Hiwa Historia plus more. Kalafina will also launch a summer tour in support of the new album. "Consolation" comes on three editions and is scheduled to be in stores March 20th 2013 – read on for more release information…
~ updated details ~
Its been about one and a half years since Kalafina released their 3rd original album "After Eden". The vocal group produced by talented composer Yuki Kajiura has released three singles that will be included on the new album – "to the beginning" featured as the opening theme for the second season of anime Fate/Zero, "moonfesta ~ムーンフェスタ~" featured as theme song for NHK TV music program "Minna no Uta", and "Hikari Furu" featured as the theme song for anime movie Puella Magi Madoka Magica The Eternal Story (Eien no Monogatari).
Kalafina just released 2CD live compilation album "5th Anniversary LIVE SELECTION 2009-2012" – that contains songs recorded live at events from 2009 thru 2012. Songs from their debut single "oblivious" to their 10th single "to the beginning", and more for 29 total tracks. Kalafina's 5th anniversary live compilation album hit stores January 23rd 2013.
To celebrate that release and their 5th anniversary – Kalafina is holding a special release and anniversary performances "Kalafina 5th Anniversary LIVE ~oblivious~" featuring songs from the live compilation album,
– January 23rd 6:00pm at Shibuya O-EAST, Tokyo
– January 29th 6:15pm Umeda AKASO, Osaka
To celebrate the release of their 4th album "Consolation" -  Kalafina will hold special event,
– April 6th "Kalafina Consolation Special LIVE 2013" at Tokyo Dome City Hall.
They'll then launch two summer tours in support of the album,
"Kalafina LIVE TOUR 2013 Consolation HALL ver."
– June 8th and 9th at Nakano Sun Plaza, Tokyo
– July 27th Toyama Shimin Kaikan, Takaoka
– August 3rd Grand Cube, Osaka
"Kalafina LIVE TOUR 2013 Consolation LIVE HOUSE ver."
– June 22nd and 23rd THE BOTOM LINE, Nagoya
– June 29th and 30th DRUM LOGOS, Fukuoka
– July 4th AKASAKA BLITZ, Tokyo
– July 13th Rensa, Sendai
– July 15th PENNY LANE24, Sapporo
– July 20th and 21st CLUB QUATTRO, Hiroshima
– July 28th LOTS, Niigata
Album "Consolation" comes on three editions,
– Limited with DVD that's planned to include documentary footage at AnimagiC (Germany 2012) and music video for new song "Yume no Daichi". Includes deluxe photo booklet
– Limited with Blu-ray with similar contents to DVD. Includes deluxe photo booklet.
– Regular CD-only.
Release details are early – full track list, cover jackets, and possible bonuses will be announced so come back to Comtrya Sugoi for updates.
Kalafina – "Consolation" – release date March 20th 2013
Limited A [CD+DVD] (¥3800)


Limited B [CD+BD] (¥4000)


[CD]
1. to the beginning
2. moonfesta
3. Hikari Furu
4. Yume no Daichi
5. – ? undecided
[DVD]
1. Yume no Daichi (music video)
2. Documentary footage (AnimagiC, Germany 2012)
3. undecided
[CD]
1. to the beginning
2. moonfesta
3. Hikari Furu
4. Yume no Daichi
5. – ? undecided
[BD]
1. Yume no Daichi (music video)
2. Documentary footage (AnimagiC, Germany 2012)
3. undecided
Regular [CD] (¥3000)


 
[CD]
1. to the beginning
2. moonfesta
3. Hikari Furu
4. Yume no Daichi
5. – ? undecided