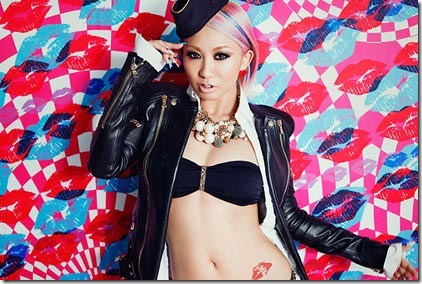 Koda Kumi has announced a new album of cover songs – 11 tracks including "Pink Spider" from hide (1998, released after his death), "Lovely" from Ozawa Kenji (1994), and "Koyoi no tsuki no youni" from Elephant Kashimashi (1997). The album which isn't yet titled will re-introduce the cute and sexy Koda Kumi with cover jackets and photo booklet. Koda Kumi's cover album is scheduled to be in stores February 27th 2013 – read on for more details…
~ updated details ~
Koda Kumi recently released her 54th single, "Koishikute" – a love ballad perfect for the winter months that depicts the heart-felt feelings between couples that happen only when they are far apart. Single "Koishikute" hit stores December 26th 2012 (previously announced as December 5th) – more details reported here.
Some of the released promotional photos (above and below) for the new album show that Koda Kumi is back and sexier than ever since taking a step back from the music industry last December 2011 when she announced her marriage and subsequent pregnancy. She delivered a healthy baby boy just six months ago on July 17th 2012! (click images to enlarge)
Koda Kumi also recently released an equally sexy promotional video for the Koda Kumi x UULA CM campaign for the new mobile/media UULA service with SoftBank x Avex. The video shows footage from her new "Pink Spider" music video and off-shoot – check it out below and more details available at special website (link below).
The cover album comes on three editions,
– Limited with DVD and photo booklet. The DVD includes three music videos and the making-of footage for all three. Also includes a 30-minute documentary with Koda Kumi.
– Limited with DVD that includes the three music videos and making-of footage.
– Regular CD-only.
The album's title, cover jackets, and possible bonuses will be announced so come back to Comtrya Sugoi for updates.
Koda Kumi – Cover Album – release date February 27th 2013
Limited [CD+DVD+Photobook] (¥4980)


Limited [CD+DVD] (¥3990)


[CD]
1. Pink Spider (hide with Spread Beaver)
2. Lovely (Ozawa Kenji)
3. Shake Hip! (Komekome CLUB)
4. Donimo tomaranai (Yamamoto Linda)
5. Jonetsu (UA)
6. Blue Velvet (Kudo Shizuka)
7. Otoko (Kubo Ruriko)
8. Koyoi no tsuki no youni (Elephant Kashimashi)
9. One more time, One more chance (Yamazaki Masayoshi)
10. Alone (Okamoto Mayo)
11. Uta wa waga inochi (Mizora Hibari)
[DVD]
1. Pink Spider (music video ~Album version)
2. Lovely (music video)
3. Shake Hip! (music video)
4. Pink Spider (off shoot)
5. Lovely (off shoot)
6. Shake Hip! (off shoot)
7. Documentary footage (30-min)
[CD]
1. Pink Spider (hide with Spread Beaver)
2. Lovely (Ozawa Kenji)
3. Shake Hip! (Komekome CLUB)
4. Donimo tomaranai (Yamamoto Linda)
5. Jonetsu (UA)
6. Blue Velvet (Kudo Shizuka)
7. Otoko (Kubo Ruriko)
8. Koyoi no tsuki no youni (Elephant Kashimashi)
9. One more time, One more chance (Yamazaki Masayoshi)
10. Alone (Okamoto Mayo)
11. Uta wa waga inochi (Mizora Hibari)
[DVD]
1. Pink Spider (music video ~Album version)
2. Lovely (music video)
3. Shake Hip! (music video)
4. Pink Spider (off shoot)
5. Lovely (off shoot)
6. Shake Hip! (off shoot)
Regular [CD] (¥2625)


 
[CD]
1. Pink Spider (hide with Spread Beaver)
2. Lovely (Ozawa Kenji)
3. Shake Hip! (Komekome CLUB)
4. Donimo tomaranai (Yamamoto Linda)
5. Jonetsu (UA)
6. Blue Velvet (Kudo Shizuka)
7. Otoko (Kubo Ruriko)
8. Koyoi no tsuki no youni (Elephant Kashimashi)
9. One more time, One more chance (Yamazaki Masayoshi)
10. Alone (Okamoto Mayo)
11. Uta wa waga inochi (Mizora Hibari)
 
Koda Kumi x UULA ~ Pink Spider ~