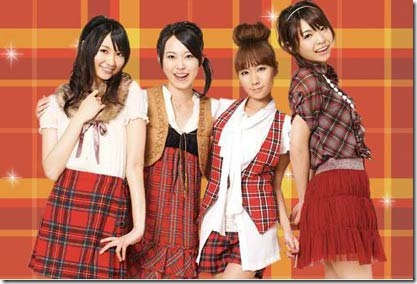 Sphere has announced a Blu-ray release for their Orbit Tour 2012 FINAL SPECIAL STAGE Live held on September 15th & 16th 2012 at Makuhari Messe Event Hall. The special two-day event was the culmination of their tour that began in April 2012 and ran 14 performances. The Blu-ray captures their complete performance on September 16th 2012 plus includes footage from their September 15th performance and documentary tour footage. "Sphere's Orbit Tour 2012 FINAL SPECIAL STAGE Live" is scheduled to hit stores March 27th 2013 – read on for more details.
Sphere is also getting ready to release a music video collection "Music Clips 2009 – 2012" on Blu-ray. The collection includes music videos from their debut single "Future Stream" to 11th single "Pride on Everyday" plus more for 15 total videos. The release hits stores February 27th 2013.
Sphere consists of popular voice actresses (seiyuu) Aki Toyosaki, Ayahi Takagaki, Haruka Tomatsu, and Minako Kotobuki. In addition to performing together as Sphere they are also busy with solo releases.
Member Haruka Tomatsu released her 9th single "Yume no Sekai" on July 25th 2012 (details) with tie-in as the first ending theme for popular anime Sword Art Online in which she also provides the voice for main heroine Asuna. Tomatsu capped a busy 2012 releasing her 10th single "Q&A Recital!" on October 17th 2012 and featured opening theme for another popular anime My Little Monster (Tonari no Kaibutsu-kun) and she also voiced the lead character Mizutani Shizuku.
Member Aki Toyosaki came out with her 7th solo single "Orion to Supankoru" on December 19th 2012 (details).
And member Ayahi Takagaki has just announced her first album (not yet titled) and her first solo concert tour – more details will be posted.
Sphere announced their 2nd solo concert events this spring "Music Rainbow 02" featuring each member. The events will be held March 30th & 31st 2013 at Nakano Sun Plaza,
– March 30th 3:00pm Aki Toyosaki
– March 30th 7:00pm Ayahi Takagaki
– March 31st 3:00pm Minako Kotobuki
– March 31st 7:00pm Haruka Tomatsu
The "Sphere's Orbit Tour 2012 FINAL SPECIAL STAGE Live" comes on one region-free Blu-ray edition. First Press version adds a slipcase cover.
Cover jacket and full track list will be announced so come back to Comtrya Sugoi for updates.
Sphere – "Orbit Tour 2012 FINAL SPECIAL STAGE Live" – release date March 27th 2013
Blu-ray (¥8800)


[BD]
1. Full set performance September 16th Makuhari Messe Event Hall
2. Performance footage from September 15th Makuhari Messe Event Hall
3. Orbit Tour 2012 documentary footage