Aragaki Yui (22), Ikuta Toma (25) and Mukai Osamu (28) visited a theater in Tokyo to greet the audience of their movie "Hanamizuki" on its opening day.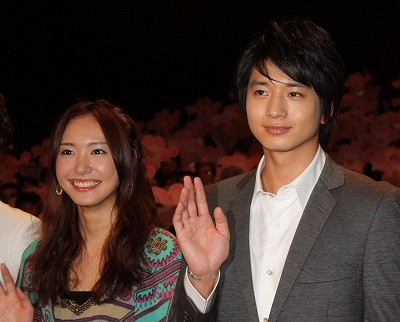 When the stage greeting was about to end, the audience suddenly started to sing the chorus of Hitoto Yuu's "Hanamizuki" on which the story of the movie is based on. Everyone of the cast was really surprised and Gakky even was moved to tears.
"It was such a warm surprise, I just couldn't hold back my feelings… Thank you very much," she said while wiping off her tears. "During the filming we've seen a lot of really beautiful sceneries, but today might be the most beautiful," she added and thanked the audience.
To more info,please visit source.
Source – KawaiiJoyuu
Posted by Comtrya Sugoi!