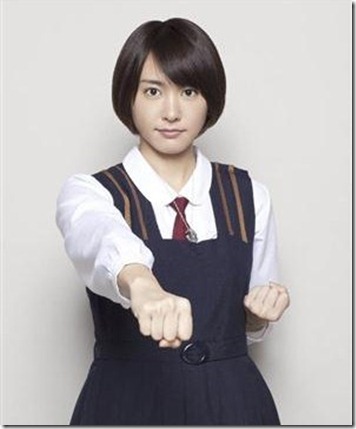 The first pictures of actress Aragaki Yui as Akane Tendo in the upcoming live-action drama, "Ranma 1/2" reveal that she's cut her trademark long hair dramatically. Aragaki is going all-out in her role and cut almost 10 inches of her hair to match her character Akane Tendo's appearance in the original manga.
Aragaki commented, "Its been since Junior High School that I had such a short hairstyle." She added, "I didn't hesitate at all when it was time to cut my hair and just did it. Others around me were surprised but it did feel that dramatic for me." Commenting on the work for the special, she said, "There are a number of action scenes and I get quite sore practice for them. I'm really giving this my best effort!"
More photos and info after jump,
Aragaki has said she's been a big fan of "Ranma 1/2″ mangaka Takahashi Rumiko since her junior high school days and with this adaption focusing more on Akane Tendo, Aragaki made the proposal to the staff to cut her hair.
The cast also includes Kenta Kaku as male Ranma and Natsuna as female Ranma.
In the story, Akane is set carry on the family's legacy, its dōjō. However, her father Soun suddenly announces that "only men can be heirs." And we know this puts Ranma in a bind, since he's been cursed after falling into hot spring in China where now he turns female when splashed with cold water. To return to a "full man," Ranma searches for the "secret hot spring" and gets caught up in a battle with a mysterious enemy. Now Akane holds the key to the story.
Video clip (while it lasts) of some behind the scenes on Ranma 1/2 and Aragaki cutting her hair: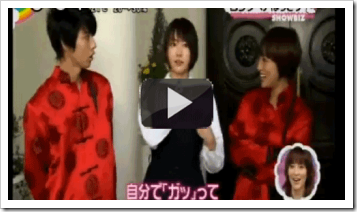 The special "Ranma 1/2″ will air on NTV 7:00pm December 9th.