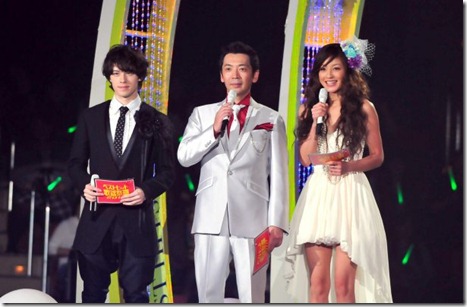 ABK48, KARA, aiko, Ikimonogakari, 2NE1, Koda Kumi, and Kana Nishino are just part of the huge line-up of performing at this year's "Best Hit Song Festival 2011." The annual show has set their line-up of 17 artists to perform live at the broadcast venue Kobe World Memorial Hall.  Produced by Yomiuri TV (YTV) the event is to be broadcast live on NTV Thursday 7:00-9:00pm November 24th. For the 3rd year in a row the show will be hosted by Eiji Wentz, Maki Nishiyama, and Seiji Miyane.
The traditional awards usually presented at this show, the "Grand Prix" and "Newcomer of the Year" will be held back in respect of the victims and many charitable works by artists as a result of this past March's Tohoku earthquake and tsunami. Previously EXILE had won the "Grand Prix" award the past 3 years.
Hit the jump for more details on all the performing artists,
---
Source: natalie & YTV Best Hits Song Festival 2011
Images © Yomiuri Telecasting Corp.