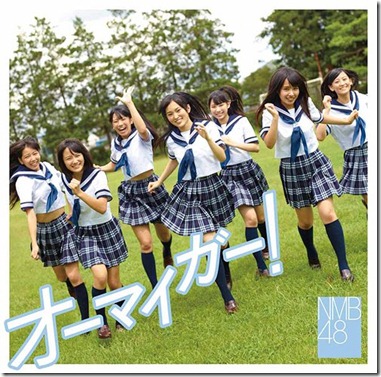 AKB48 sister group out of Namba, Osaka, NMB48 again blasted the charts at #1 with over 265,000 sold of their 2nd single "Oh My God!" With their 1st single also selling at +200K makes it two in a row for NMB48 and is a first for any female group. Making a strong showing at #2 is BUMP OF CHICKEN with their single "Zero" at over 163,000 copies sold. "Zero" is featured as theme for popular RPG game "FINAL FANTASY TYPE-0." KARA should have picked a different week to release their newest single "Winter Magic" but they did well to land in the #3 spot.
Fall anime theme songs from Minori Chihara and Maaya Sakamoto make the charts in the 9th and 10th spots respectively.
On the album side duo Tegomass consisting of NEWS members Yuya Tegoshi and Takahisa Masuda hit the #1 spot with their 3rd album release "Magic of Tegomass." Kazuyoshi Saito and his new album "45 STONES" slides into the #2 spot just ahead of Coldplay's "Mylo Xyloto" in #3.
Complete charts follow after jump.
Singles for October 17th – 23th
| | | | | |
| --- | --- | --- | --- | --- |
| Rank | Group/Artist | Single Title | Released | Sold |
| 1 | NMB48 | Oh My God! | Oct 19th | 265,435 |
| 2 | BUMP OF CHICKEN | Zero | Oct 19th | 163,381 |
| 3 | KARA | Winter Magic | Oct 19th | 78,148 |
| 4 | CNBLUE | In My Head | Oct 19th | 71,200 |
| 5 | Acid Black Cherry | Shangri-La | Oct 19th | 49,507 |
| 6 | Mai Kuraki | Your Best Friend | Oct 19th | 17,479 |
| 7 | L'Arc~en~Ciel | X X X | Oct 12th | 17,374 |
| 8 | Aoi Eir | MEMORIA | Oct 19th | 14,442 |
| 9 | Minori Chihara | TERMINATED | Oct 19th | 13,957 |
| 10 | Maaya Sakamoto | Buddy | Oct 19th | 12,895 |
Albums for October 17th – 23th
| | | | | |
| --- | --- | --- | --- | --- |
| Rank | Group/Artist | Album Title | Released | Sold |
| 1 | Tegomass | Magic of Tegomass | Oct 19th | 60,504 |
| 2 | Kazuyoshi Saito | 45 STONES | Oct 19th | 28,372 |
| 3 | Coldplay | Mylo Xyloto (MX) | Oct 12th | 28,049 |
| 4 | Various Artists | EXIT TUNES PRESENTS Vocalocluster feat. Hatsune Miku | Oct 19th | 15,188 |
| 5 | Noel Gallagher's High Flying Bird | Noel Gallagher's High Flying Bird | Oct 12th | 12,648 |
| 6 | Kimura Kaela | 8EIGHT8 | Oct 12th | 12,240 |
| 7 | Daisuke Yokoyama, Takumi Mitani | NHK – Okasan to Issho Saishin Best Sore ga Tomodachi | Oct 19th | 12,093 |
| 8 | Evanescence | Evanescence | Oct 12th | 10,911 |
| 9 | A.N.JELL | TBS drama series "You're Beautiful" MUSIC COLLECTION | Oct 5th | 10,709 |
| 10 | Tohoshinki | TONE | Sept 28th | 10,506 |
Source: Oricon