Arashi dominated the singles charts with week with "Meikyu Love Song" selling over 530,000 copies. It was the mega-boy group's 32nd single to hit #1. The girls of Perfume made a good showing in the second spot with their latest single "SPICE." With her first single in over 2 years, Shiina Ringo and "Carnation" hit the charts in the #5 spot.
On the album charts favorite YUI easily took care of the #1 spot with her release "HOW CRAZY YOUR LOVE." YUI has been very busy lately but not too busy to have her 5th consecutive #1 selling album. Girls Generation (Shoujo Jidai) album "The Boys" stayed strong for the second week, slipping from #2 to #3. 
Maki Goto making what could be her final album release as a single artist with "Ai Kotoba (VOICE)" charted #8. It's the first top ten for Goto in quite a while (2004). The former Morning Musume member previously announced an indefinite hiatus starting next year though after joining a recent performance with the other former Morning Musume members that form Dream Morning Musume, Goto indicated she would be very interested in doing more performances with Dream Morning Musume.
Complete charts follow after jump.
Singles for October 31st – November 6th
| | | | | |
| --- | --- | --- | --- | --- |
| Rank | Group/Artist | Single Title | Released | Sold |
| 1 | Arashi | Meikyu Love Song | Nov 2nd | 530,469 |
| 2 | Perfume | SPICE | Nov 2nd | 75,688 |
| 3 | AKB48 | Kaze wa Fuiteiru | Oct 26th | 67,662 |
| 4 | 2PM | Ultra Lover | Nov 2nd | 65,367 |
| 5 | Shiina Ringo | Carnation | Nov 2nd | 18,513 |
| 6 | Kazuyoshi Saito | Yasashiku Naritai | Nov 2nd | 15,442 |
| 7 | BUMP OF CHICKEN | Zero | Oct 19th | 14,658 |
| 8 | 10-FEET | Sono Mukoue | Nov 2nd | 14,091 |
| 9 | SM☆SH | STEP | Nov 2nd | 14,039 |
| 10 | Ashida Mana | ~Gyu Gyu Good-Day~ | Oct 26th | 13,987 |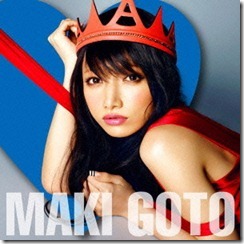 Albums for October 31st – November 6th
| | | | | |
| --- | --- | --- | --- | --- |
| Rank | Group/Artist | Album Title | Released | Sold |
| 1 | YUI | HOW CRAZY YOUR LOVE | Nov 2nd | 131,771 |
| 2 | Kuroyume | Headache and Dub Reel Inch | Nov 2nd | 17,067 |
| 3 | Girls Generation | The Boys | Oct 26th | 15,739 |
| 4 | Kim Hyun Joong | Lucky | Nov 2nd | 14,594 |
| 5 | BENI | Fortune | Nov 2nd | 12,695 |
| 6 | Coldplay | Mylo Xyloto (MX) | Oct 19th | 9,370 |
| 7 | Justin Bieber | Under the Mistletoe | Nov 2nd | 8,401 |
| 8 | Maki Goto | Ai Kotoba (VOICE) | Nov 2nd | 7,213 |
| 9 | Chouchou-P feat. Hatsune Miku | Glorious World | Nov 2nd | 7,037 |
| 10 | Lon | Exit Tunes Presents – Lon | Nov 2nd | 6,847 |
Source: Oricon