December 5, 2011
-
Latest Crunchyroll Anime Videos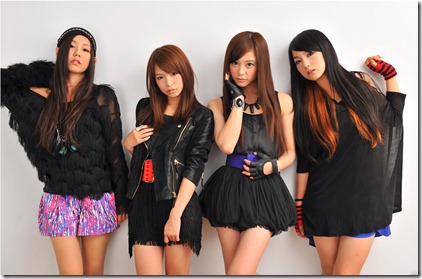 SCANDAL released their 3rd album "Baby Action" back in August 10th and hit the stage beginning October 3rd with their "SCANDAL VIRGIN HALL TOUR 'BABY ACTION" tour in support of the new album.  Photos and concert notes from their performance in Osaka follow,
The SCANDAL girls sported new lighter hair colors and treated all the fans with a full set of 18 songs + 2 encore songs. The stage was setup like a warehouse, with a brick-look and chain-link fencing around the back-top. The girls were setup with wireless mics to give them full freedom to run around the available stage space. Two sets of stairs lead up to the top section and 2 small sub-stages that would be used by Tomomi and Mami.
With an enthusiastic roar from the audience the girls started in with "LOVE SURVIVE" and "Sparkling." During one of the interview pauses the girls got a big cheer when commented on their first concert at Nippon Budokan coming in March 28th 2012. The encore the band came back on stage with tour goods t-shirts and finished up with "GLAMOROUS YOU" and "one piece."
Check out the set list and photos (click photo for larger image) of what was sure to have been a great performance.
Set List

1) LOVE SURVIVE
2) Sparkling
3) SCANDAL NANKA BUTTOBASE
4) SONOTOKI.SEKAI HA KIMI DARAKE NO RAIN
5) DOLL
6) Shoujo S
7) Shoujo M
8) Which Bond Bond Theme
9) Our Great Message

10) Night Maboroshi
11) Tokyo skyscraper
12) BURN
13) Haruka
14) Pride
15) Very Special
16) Shunkan Sentimental
17) EVERYBODY SAY YEAH!
18) SCANDAL BABY

Encore
1) GLAMOROUS YOU
2) one piece
Source & Images: EOnet.jp