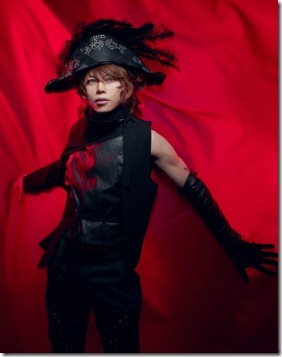 T.M.Revolution will be holding a two day live event to bring in the New Year -  "T.M.R. NEW YEAR PARTY '12 LIVE REVOLUTION" – Venue will be the famous Nippon Budokan and the event dates are January 1st and 2nd. Details follow,

"If the customer is enjoying, do anything! Our concept – 'TMR never seen like this!'", T.M.Revolution spoke with enthusiasm for the upcoming event. The two days will be an enjoyable new challenge for Nishikawa (TMR).
In addition, a special website is created just for the event "T.M.R New Year Party '12 Live Revolution" and gives fans a bit of what to expect in Nishikawa's own words. Nishikawa will sing cover songs as requested by fans (he's already sweating the work to review the 1000+ responses already) but he says he's extending the deadline to 10am December 23rd, so keep sending them in even if his staff starts screaming – nishikawa@allnightnippon.com .
T.M.Revolution: T.M.R. NEW YEAR PARTY '12 LIVE REVOLUTION
January 1, 2012 at Nippon Budokan, Tokyo
OPEN 16:00 / START 17:00
January 02, 2012 at Nippon Budokan, Tokyo
OPEN 16:00 / START 17:00
Price: ¥6500 (All seats reserved)
Source: natalie