November 16, 2011
-
toyNN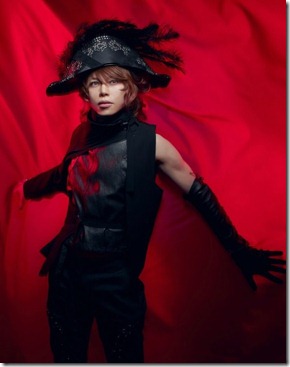 New mini-album "UTAGE" and special DVD to commemorate the 5th anniversary of T.M.Revolution work with the Sengoku BASARA anime and game franchise. The album features 7 tracks representing the 5 years of songs featured in Sengoku BASARA by T.M.Revolution. Limited edition A adds a drama CD featuring T.M.Revolution and Limited edition B features DVD with 10 opening movies from the games and anime.  The mini-album editions release today, November 16th. More details and images follow,

The new mini-album concept T.M. Revolution "UTAGE" is finally released. This is T.M.Revolution x "Sengoku BASARA" album to commemorate their 5th Anniversary. "Sengoku BASARA" powerhouse with a history from 2005 and continues to the present year and work with T.M.Revolution which is depicted through the seven hit songs.
The DVD comes with the Limited Edition A features game and anime opening movies. In the Drama CD that comes with the Limited Edition B, appeared in person at the role of what T.M.Revolution. "Sengoku BASARA six warriors VS T.M.Revolution! Nishikawa Castle castle tower! UTAGE multiplied by tomorrow!" Entitled, and has engaged in a drama of a popular warrior in the game 6. In addition to the album song "UTAGE" also included the first time.
Check out the full Comic Natalie Power Push page for this release [here]
Limited Edition B [CD+CD] (2700)

Regular Edition [CD] (2200yen)


[CD]
1. crosswise
2. Naked arms
3. SWORD SUMMIT
4. FLAGS
5. The party must go on
6. UTAGE
7. Naked arms -English ver.-
[CD2]
Drama conversations with T.M.Revolution (Takanori Nishikawa) and 6 Sengoku BASARA characters. 6 parts

[CD]
1. crosswise
2. Naked arms
3. SWORD SUMMIT
4. FLAGS
5. The party must go on
6. UTAGE
7. Naked arms -English ver.-

Limited Edition A [CD+DVD]

[DVD] 

1. Game "Sengoku BASARA" Opening
2. Game "Sengoku BASARA X (cross)" opening movie
3. Game "Sengoku BASARA 3" Opening
4. Anime "Sengoku BASARA 弐" Opening Movie [SWORD SUMMIT]
5. Anime "Sengoku BASARA 弐" Special Promotion Movie [SWORD SUMMIT]
6. Game "Samurai BASARA Heroes Chronicles" Opening Movie [FLAGS]
7. Game "Samurai BASARA" 5th Anniversary Movie [FLAGS]
8. The Movie "Samurai BASARA -The Last Party-" Special Promotion movie [The party must go on]
9. Game "Sengoku BASARA3 Feast" Opening Movie [UTAGE]
10. Game "Sengoku BASARA: Samurai Heroes" opening theme [Naked arms-English ver .-]