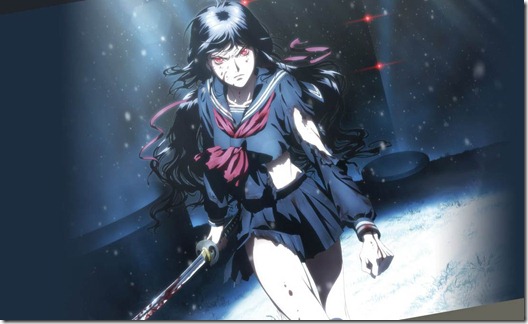 Upcoming anime movie BLOOD-C The Last Dark has just exposed a new trailer video via the SHOCHIKU Official YouTube channel. The anime movie is follow-up to last Summer's TV series BLOOD-C and is due to hit theaters in Japan June 2nd. Previously we reported that Nana Mizuki who voices lead character Kisaragi Saya will also provide the theme song "METRO BAROQUE" (release details) for the movie and posted other promotional videos for the movie. New trailer and other promo videos follow,
BLOOD-C The Last Dark continues the story with heroine Kisaragi Saya and antagonist Nanahara Fumito – the story is set one year after the events from the TV anime series BLOOD-C in Tokyo where minors are forbidden to be out at night under the new Youth Protection Ordinance and the Internet is tightly policed. With the help of a counter organization Sirrut they try to uncover the truth around Nanahara and his organization TOWER – what they find is gruesome.
You can watch last Summer's TV anime BLOOD-C via the NicoNico.com anime channel streaming site (might have some country restrictions).
BLOOD-C The Last Dark– theatrical release June 2nd 2012
Trailer 2 – BLOOD-C The Last Dark – June 2nd 2012
Neno & Nono provide summary of BLOOD-C TV anime series
Nana Mizuki speaks about Saya and BLOOD-C The Last Dark
BLOOD-C The Last Dark Official website