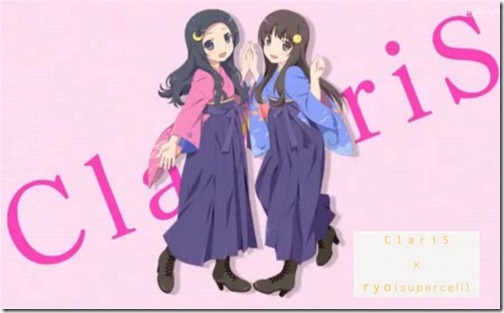 ClariS has just released their 4th single "Naisho no Hanashi" on February 1st and fans are showing great support based on the daily Oricon singles charts. So far this week (ex-Sunday) the single has charted either 1st, 2nd, or 3rd each day and may have weekly sales to land it in the #2 spot for the week with over 30,000 copies sold. "Naisho no Hanashi" will be the best Oricon charting single up to now for the junior high school duo that form ClariS. Details on the single follow,
"Naisho no Hanashi" is a collaboration with supercell's leader ryo and the title track is featured as ending theme to current anime Nisemonogatari.  The single comes in 3 editions, a Limited edition with bonus DVD, a regular CD only edition, and an anime cover Limited Pressing edition that adds the TV size version of "Naisho no Hanashi" to the CD. This version is only available until March 31st.
Check back tomorrow for the weekly Oricon Chart Preview post to see if we can better predict where ClariS may land.
ClariS – Naisho no Hanashi – release date February 1st 2012
Limited [CD+DVD] (¥1575)


Limited Pressing anime [CD] (¥1300)


[CD]
1. Naisho no Hanshi
2. I'm in love
3. Hontou Ha
4. Naisho no Hanshi (off vocal)
[DVD]
1. Naisho no Hanshi (music video)
[CD]
1. Naisho no Hanshi
2. I'm in love
3. Hontou Ha
4. Naisho no Hanshi (TV size)
Regular [CD] (¥1223)


[CD]
1. Naisho no Hanshi
2. I'm in love
3. Hontou Ha
4. Naisho no Hanshi (off vocal)
Previously: ClariS and ryo team up for Nisemonogatari ending theme