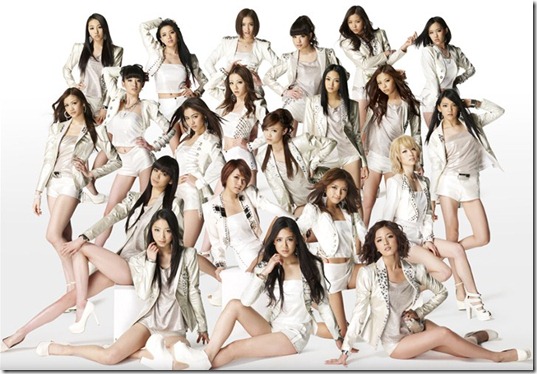 E-Girls are set to release their new single "One Two Three" in a few days on April 18th. E-Girls are comprised of groups Dream, FLOWER, and Happiness and are all part of the EXILE family of groups. The single is the combined groups' second and is offered in two editions, a Limited with bonus DVD that includes the music video and off shoot footage for the title track and a live performance of coupling track "E-Girls Anthem", and a Regular CD-only edition that adds bonus track "Tadaima!". Details on the release and preview videos for "One Two Three" follow,
The title track "One Two Three" is used as ending theme for "music Ru TV" on TV Asahi through April and used in CM for Samantha Thavasa Resort Golf & Travel.
The E-Girls just held a handshake, book and CD selling event on April 14th & 15th at Aichi-Nagoya Dome as part of the "EXILE TRIBE LIVE TOUR 2012 ~TOWER OF WISH~".
E-Girls also announced they will hold a free live event on April 30th 2pm at Zepp DiverCity (Tokyo). Application for tickets is for LDH (Love, Dream, Happiness) fan club members only and will be via lottery if applicants exceed seat availability. Deadline to apply is April 20th 6pm.
Preview video for music video and one for off shoot footage follows after the release details.
E-Girls – "One Two Three" – release date April 18th 2012
Limited [CD+DVD] (¥


Regular [CD] (¥1260)


[CD]
1. One Two Three
2. E-Girls Anthem
3. One Two Three (off vocal)
[DVD]
1. One Two Three (music video)
2. E-Girls Anthem (live EXILE LIVE TOUR 2011 TOWER OF WISH)
3. One Two Three (off shoot)
[CD]
1. One Two Three
2. Tadaima!
3. E-Girls Anthem
4. One Two Three (off vocal)
5. Tadaima! (off vocal)
E-Girls – One Two Three – release date April 18th 2012
E-Girls – One Two Three – off shoot footage, single release date April 18th 2012
LDH Girls Family Fan Club Official website