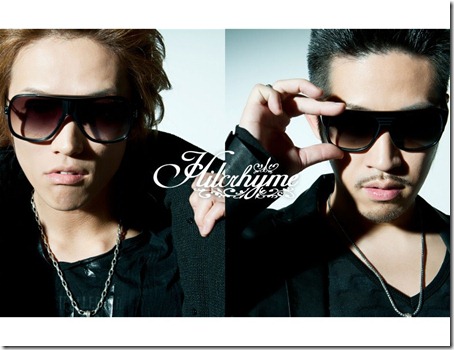 The R&B/hip-hop group Hilcrhyme will release the first best of albums – "Best of Hilcrhyme ~GOLD~", "Best of Hilcrhyme ~SILVER~", and "Best of Hilcrhyme ~BEST RAP~" on April 25th. The release will have 29 tracks on two separate albums (GOLD & SILVER) which can be purchased separately or together in a third version (BEST RAP). The group has also just exposed a preview video via the Universal Music Japan Official YouTube channel. The video and more details on the albums follow,
The album's three different versions – the GOLD version includes 16 tracks, the SILVER version includes 13 different tracks, and the BEST RAP version includes both the GOLD & SILVER version CDs, a DVD with music videos, and a photo book from live event. First Press bonuses for all three include a sticker and application card for special event.
The group announced that purchasers of all three versions will be able to use the application card to apply to attend a premium live event to be held between June and July. The fans will also need to provide their story about how Hilcrhyme songs have touched them.
Preview video follow after the album release details…
Hilcrhyme – Best of Hilcrhyme – release date April 25th 2012
GOLD [CD] (¥3059)


SILVER [CD] (¥2890)


[CD]
1. Junya to Manami
2. Syunkasyutou
3. daijoubu
4. Loose Leaf
5. Travel Machine
6. Okubyou na Ohkami
7. no one
9. Personal COLOR
10. Child Play
11. BOYHOOD
12. RIDERS HIGH
13. No. 109
14. Changes
15. My Christmas Carol
16. Syunkasyutou (full orchestra ver.)
[CD]
1. Akenosagi
2. Little Samba ~Jounetu no Friday~
3. Tomo Yo
4. Hikari
5. Ibuki
6. East Area
7. Ouin Kenbunroku
8. Merry Go Run
9. Tsubomi
10. Please Cry
11. Naiyou no Nai Tegami
12. SKY DRIVE at "MESSAGE TOUR 2011"
13. Extraction Instrumental at "RISING TOUR 2012"
BEST RAP [CD+CD+DVD] (¥5980)


 
[CD1]
1. see track list for GOLD version
[CD2]
1. see track list for SILVER version
[DVD]
1. Syunkasyutou (full orchestra ver. music video)
 
Hilcrhyme – Best of Hilchryme – Syunkasyutou ~Full orchestra ver~ release date April 25th 2012