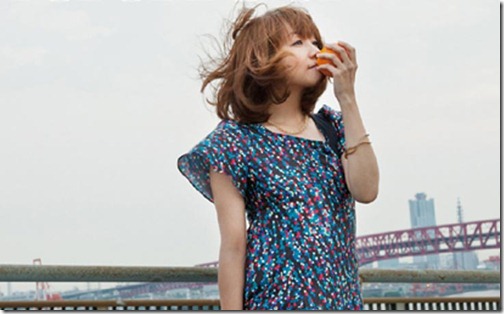 Singer/songwriter/guitarist Hitomi Yaida has a new single "Mogitate no Yuuutsu" set for release on July 11th. Its her first single of 2012 and 21st overall. Known for a sound that's a mix of pop and folk rock in her music and the new song "Mogitate no Yuuutsu" leans more to the rock side with a good and strong sound with sharp guitar riffs. More release details on the single and the preview music video just exposed follow..
The new single "Mogitate no Yuuutsu" is a collaboration with producer Shimada Masanori who as worked with artists like Ikimonogakari and aiko.
The single comes in two editions:
– Limited with bonus DVD that includes the music video for the title track.
– Regular Cd-only.
Hitomi Yaida will hold a pair of special mini-live and hand-shake events to celebrate the single's release – event tickets are included in the First Press versions of both editions of the single. Entry deadline July 15th.
Venues:
          – July 28th Tokyo Studio Coast 5:00pm
          – August 15th Zepp Namba Osaka 6:00pm
Music video follows below the release details….
Hitomi Yaida – "Mogitate no Yuuutsu" – release date July 11th 2012
Limited [CD+DVD] (¥1575)


Regular [CD] (¥1260)


[CD]
1. Mogitate no Yuuutsu
2. LooP
3. Mogitate no Yuuutsu (off vocal)
4. LooP (off vocal)
[DVD]
1. Mogitate no Yuuutsu (music video)
[CD]
1. Mogitate no Yuuutsu
2. LooP
3. Mogitate no Yuuutsu (off vocal)
4. LooP (off vocal)