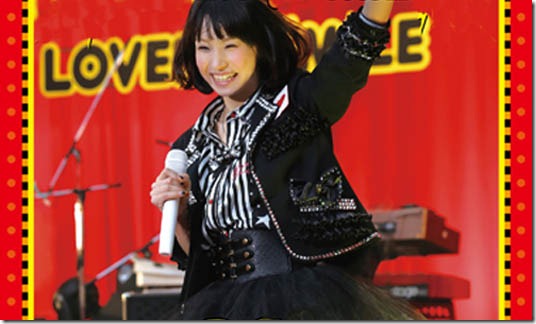 Singer LiSA has announced her first live release "LiVE is Smile Always ~LOVER"S"MiLE~" recorded at open-air concert at Hibiya held April 30th 2012. The release will come on either DVD or Blu-ray and is scheduled to include 19 songs and behind-the-scenes footage. Pre-order now and release will hit stores September 26th – more details follow..
LiSA's live performance at Hibiya Open-air Concert Hall was sold-out within hours and 3,000 enthusiastic fans were fortunate to see the live event. LiSA performed her singles such as "Oath Sign" from anime Fate/Zero and songs such as "Crow Song" from Girls Dead Monster the fictitious band from anime Angel Beats.
Her newest single "crossing filed" featured as the opening theme for popular anime Sword Art Online is releasing today August 8th. More details on the release and anime can be found in previous reports here.
LiSA has a busy summer of live performances at anime themed events –
– August 25th "Animelo Summer Live 2012 ~INFINITY8~" at Saitama Super Arena. Other performers: May'n, ALI PROJECT, Mami Kawada, StylipS, Minori Chihara, Yui Horie, GRANRODEO, and more…. http://anisama.tv/
– September 1st Anime Festival Asia Indonesia 2012 – at Jakarta. More details can be found at AFA's Official website: http://www.animefestival.asia/afaid/i_love_anisong.html
– October 7th "LiVE 2012  -SMiLE GiFT-" at Tokyo University of Technology ~Hana Matsuri Festival~ more details on this free concert – http://www.koukasai.net/concert/index.html
The live "LiVE is Smile Always ~LOVER"S"MiLE~" release is offered on DVD and Blu-ray. The Blu-ray version includes behind-the-scenes documentary footage. First Press version is offered on both and adds special slip-case cover packaging.
More details on the full track list will be announced – check back to Comtrya Sugoi for updates
LiSA – "LiVE is Smile Always ~LOVER"S"MiLE~" – release date September 26th 2012
Limited Blu-ray (¥5775)


Limited DVD (¥4725)


[BD]
1-19. to be announced
20. Concert documentary footage
[DVD]
1-19. to be announced
Sword Art Online Official website