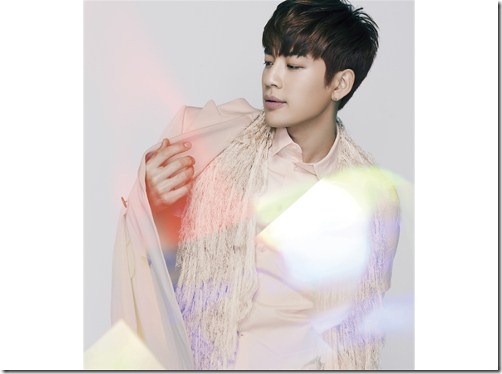 Korean singer SE7EN will release his first single in Japan in over four years – "LOVE AGAIN" – and its set to drop April 25th. It will be his 7th Japanese single and in addition to the title track the coupling song(s) will be original Japanese songs but not yet announced. SE7EN's official comeback to Japan continues with this new single and began with an EP "Somebody Else" released back on January 18th. More details on the single release and the short version preview music video for "LOVE AGAIN"  follow,
The single is offered in four editions – a Limited with bonus DVD that includes music video and off-shoot footage for the title track, a Photo book version with bonus 16 page photo book, a Regular CD-only edition, and a YGEX shop edition without the coupling song(s).
To commemorate the new single 6 live events across Japan are scheduled – titled "SE7EN 7th Single SHOCASE [LOVE AGAIN]" – tickets are ¥7,700 and include the YGEX Shop version of the single. Purchase via the YGEX Shop at mu-mo.
"SE7EN 7th Single SHOCASE [LOVE AGAIN]"
---
May 3rd 13:30 & 17:30 Zepp DiverCity (Tokyo)
May 5th 16:00 Zepp Fukuoka
May 6th 17:00 Zepp Nagoya
May 12th 13:30 & 17:30 Zepp Namba (Osaka)
Track list isn't yet official so details below are tentative – check back to Comtrya Sugoi for the updated details when announced. And check out the preview video of "LOVE AGAIN" after the single release details.
SE7EN – "LOVE AGAIN" – release date April 25th 2012
Limited [CD+DVD]  (¥1890)


Limited [CD+Photo book] (¥1575)


[CD]
1. LOVE AGAIN
2. tba
3. LOVE AGAIN (off vocal or Korean ver.)
4. tba (off vocal or Korean ver.)
[DVD]
1. LOVE AGAIN (music video)
2. LOVE AGAIN (off shoot)
[CD]
1. LOVE AGAIN
2. tba
3. LOVE AGAIN (off vocal or Korean ver.)
4. tba (off vocal or Korean ver.)
[bonus]
Photo book 16p
Regular [CD] (¥1260)


Regular YGEX shop [CD] (¥1050)

[CD]
1. LOVE AGAIN
2. tba
3. LOVE AGAIN (off vocal or Korean ver.)
4. tba (off vocal or Korean ver.)
[CD]
1. LOVE AGAIN
2. LOVE AGAIN (off vocal or Korean ver.)
SE7EN – LOVE AGAIN – release date 25th 2012
SE7EN Official website (Japanese)