Shinning Hearts -Shiawase no Pan- (Bread of Happiness) anime set to air starting April 12th has announced the opening and ending theme songs. Both songs will be sung by the three lead voice actresses of the anime Ito Kanae (Amil), Aizawa Mai (Neris), and Mikami Shiori (Airy). The opening theme song "Jisei-kai ~Toki Sekai~" and ending theme song "Fuwaffuwa no Mahou" will be available on the same single release that is set for May 23rd. More details follow,
The anime is based on popular RPG game by SEGA for the PSP platform and will be animated by Production I.G. Many of the voice cast members from the game are retained for the anime though in the game all three sisters are voiced by Ito Kanae.
No simulcasting announcements have been made yet for those interesting in viewing outside of Japan.
Amil (Ito Kanae), Neris (Aizawa Mai), Airy (Mikami Shiori) – "Shinning Hearts Opening/Ending Themes" – release date May 23rd 2012
Regular [CD] (¥1260)
(tentative)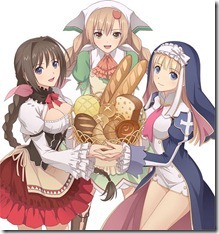 [CD]
1. Jisei-kai ~Toki Sekai~
2. Fuwaffuwa no Mahou
3. Jisei-kai ~Toki Sekai~ (off vocal)
4. Fuwaffuwa no Mahou (off vocal)