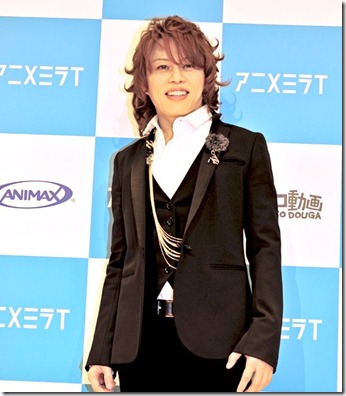 T.M.Revolution (Nishikawa Takanori) has been chosen as the "ambassador" for the Agency of Cultural Affairs' "Anime Mirai" project. The appointment was received at a press conference in Tokyo on January 18th 2012. More details follow,
"Anime Mirai" is an program within the Agency of Cultural Affairs with a goal to promote Japanese anime as culture and to encourage the growth of young animators by providing opportunities and funding. The program will form four teams by application who will produce original anime shorts of approximately 25 minutes in length. The final works will be formally presented in theaters and will also shown on television and streamed on the Internet.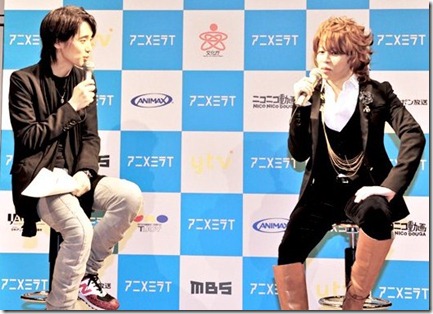 At the press conference, Nishikawa was introduced by Nippon Broadcasting System announcer Yoshida Hisanori as "the anime fan of Japan with the most followers."
Smiling at such an introduction, Nishikawa revealed,
"When I was young, both of my parents worked, so anime was my friend. I learned important morals and of the importance of family life from anime."
Nishikawa continued, showing his passion as ambassador,
"Anime is a point of cultural pride for Japan. But the costs for mass-produced anime increase, there has been a shift in production to use lower cost labor from abroad. The technology of animation from Japan has leaked overseas. I think that we must consider this quite seriously and seek to prevent the fading of our spirit of animation here in Japan."
The "Anime Mirai" 2011 animation productions are with applicants working through studios – Answer Studio, Shirogumi, Telecom Animation Film, and Production I.G and their works will be released in nine Japanese theaters starting on March 24th.
The "Anime Mirai" applicant requirements for the 2012 project will be released in April.
Nishikawa as T.M.Revolution and band Abingdon Boys School has produced much anime tied music – Soul Eater, Sengoku Basara, Rurouni Kenshin, and Mobile Suit Gundam SEED.
Source and Image: Natalie