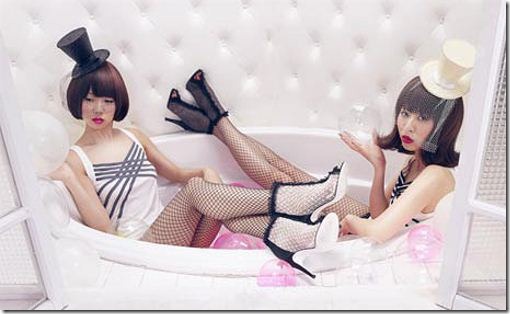 Idol duo that forms Vanilla Beans has a new single "Non-Section" announced and due to hit stores on July 4th. The girls have also just exposed a sexy and fun full-length music video for the title track. The single comes in three editions including a Limited with a bonus deluxe photo booklet. The complete release details and music video follows.
Vanilla Beans is also releasing their first photo book (June 26th) via Gekkan NEO Monthly. Expect more sexy and fun photos in a style similar to the music video. The photo book which comes in two versions,
– Deluxe includes 104 page book, hard cover case, 10 raw photos, and a making-of DVD
– Standard version includes the 104 page book.
Launch event is planned for June 27th at NicoNico headquarters in Harajuku – the Deluxe edition includes event ticket.
The girls will also be participating at their record label "T-Palette Records 1st Anniversary Live" event at Astro Hall Harajuku – June 9th 5pm.
The new single "Non-Section" comes in three editions:
– Limited with a bonus DVD that includes music video and photo shoot footage. Limited editions include bonus track.
– Limited with bonus photo booklet and bonus CD track.
– Regular CD-only.
Music video for "Non-Section" follows below the release details…
Vanilla Beans – "Non-Section" – release date July 4th 2012  (click photos to enlarge)
Limited [CD+DVD] (¥1500)


Limited B [CD+booklet] (¥1500)


[CD]
1. Non-Section
2. Himitsu
3. Kimi ga Boku ou Shitsu Teru
4. Non-section (off vocal)
5. Himitsu (off vocal)
[DVD]
1. Non-section (music video)
2. Jacket cover shoot (off shoot)
[CD]
1. Non-Section
2. Himitsu
3. Kimi ga Boku ou Shitsu Teru
4. Non-section (off vocal)
5. Himitsu (off vocal)
[Bonus]
1. Deluxe photo booklet
Regular [CD] (¥1000)


Photo book w/DVD (¥4935)       Photo book (¥2625)
 

[CD]
1. Non-Section
2. Himitsu
3. Non-section (off vocal)
4. Himitsu (off vocal)
[Book – Gekkan NEO Monthly 104pages]
Deluxe Special version includes DVD and 10 photos
Vanilla Beans – "Non-Section" – release date July 4th 2012