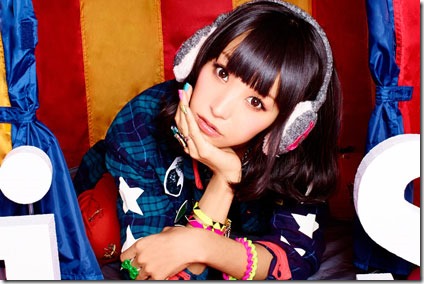 LiSA has added more details for her new album LANDSPACE – jacket covers, full track list, and bonus details all revealed. The album includes her singles "crossing field", "best day, best way", and recently released "träumerei", plus new songs and more for 12 total tracks. Album "LANDSPACE" comes on two editions scheduled to hit stores October 30th 2013 – more release details follow.
LiSA released her 4th solo single "träumerei" on August 7th 2013 (more details). The title song is featured as the opening theme for anime Day Break Illusion (Genei wo Kakeru Taiyo). Her 2nd solo single "crossing field" (2012.08.08) helped further expand LiSA's popularity with its tie-in as the first opening theme for very popular anime Sword Art Online.
Upcoming live events include recently announced solo event LiVE is Smile Always ~ Road to Budokan, December 14th 2013 5:00pm at CLUB-G Gifu. Previously LiSA announced her first solo live at the famous Nippon Budokan for January 3rd 2014 which has since sold out!
She will also participate along with other anime tie-in artists at Lisunai! LIVE-4 January 25th & 26th 2014 at Nippon Budokan. LiSA along with Yoko Hikasa, Kalafina, Aoi Eir, and more are scheduled for the January 26th 2014.  More details at her official website.
For new album "LANDSPACE" LiSA will hold several release events. The events are tied to target store with application postcard for ticket lottery presented at time of purchase of new album,
– Animate Ikebukuro January 12th 2014 2:00pm Road to Budokan "Banner" ceremony. In addition to the ceremony LiSA will present 2 lucky fans attending the event the special banner. LiSA will not perform. Submission deadline December 2nd 2013.
– Tower Records Shibuya CUTUP Studio January 18th 2014 1:30pm. LANDSPACE acoustic mini-live. Submission deadline November 15th 2013.
– Animate, Toranoana, Sofmap, Games joint event January 19th 2014 1:15pm somewhere in Tokyo. LANDSPACE autograph session. Postcard for ticket lottery submission deadline November 15th 2013, winners notified with location.
LiSA's 2nd album "LANDSPACE" comes on two editions,
– Limited with DVD and Blu-ray (contents the same) that include the music videos, making-of footage, and CM spots for her 4 singles. Includes photo booklet, deluxe 3-way case.
– Regular CD-only.
A additional bonus b3-size poster is available while supplies last at target stores (Animate, Games, Toranoana, Tower Records, HMV, Tsutaya, and Sofmap). Poster image varies by store.
Preview music video for 4th single "traumerei" follows below the release details.
LiSA – LANDSPACE – release date October 30th 2013
Limited [CD+DVD/BD] (¥4200)


Regular [CD] (¥3150)


[CD]
1. Canvas boy x Palette girl
2. Cosmic Jet Coaster
3. crossing field
4. DOCTOR
5. Boku no Kotoba de
6. best day, best way
7. Hitori Waratte
8. say my name no kataomoi
9. Usotsuki no Namida
10. Gyakkou Orchestra
11. traumerei
12. winding road
[DVD & BD]
1. Opening
2. oath sign (making-of)
3. oath sign (music video)
4. oath sign (CM spot)
5. crossing field (making-of)
6. crossing field (music video)
7. crossing field (CM spot)
8. best day, best way (making-of)
9. best day, best way (music video)
10. best day, best way (CM spot)
11. traumerei (making-of)
12. traumerei (music video)
13. traumerei (CM spot)
14. Ending
[CD]
1. Canvas boy x Palette girl
2. Cosmic Jet Coaster
3. crossing field
4. DOCTOR
5. Boku no Kotoba de
6. best day, best way
7. Hitori Waratte
8. say my name no kataomoi
9. Usotsuki no Namida
10. Gyakkou Orchestra
11. traumerei
12. winding road