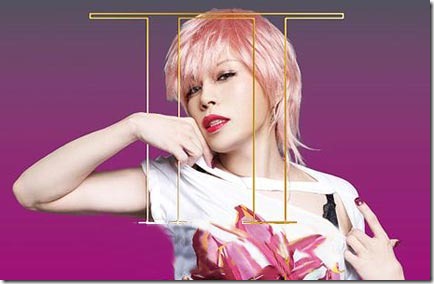 T.M.Revolution has announced the details for his by-request self-cover album "UNDER:COVER 2" and as the title implies its his second such album. The 15 included songs based on fan voting are each newly arranged by guest artists. Also many feature guest artists participating – The GazettE, May J., and more. Album "UNDER:COVER 2" comes on 5 different editions with cover jackets featuring an under-cover T.M.R. It hits stores February 20th 2013 – read on for more release details.
T.M.Revolution or T.M.R. is the alter-ego created by Takanori Nishikawa who also created and leads rock band abingdon boys school. Nishikawa as T.M.R. has released 25 singles from 1995-2011 and 9 original albums. His first "UNDER:COVER" request self-cover album released in 2006.
Most recently T.M.R. released a live album from a performance during his the 15th anniversary tour "T.M.R. LIVE REVOLUTION 11-12 CLOUD NINE" – it's the first live album he has released and it hit stores September 12th 2012 more details are reported here.
A special website has information on the voting and results for album "UNDER:COVER 2" with his 5th single "LEVEL 4" (1997) and album song "IMITATION CRIME" (1997) receiving the most votes (link below).
Album "UNDER:COVER 2" comes on 5 different editions,
– Limited with DVD that includes digest footage from live performance during the Fall 2012 Inazuma Rock Fes 12.
– Regular CD-only. First Press adds special packaging and bonus poster.
– Limited with Goods types A, B, and C in deluxe LP-size packaging that includes a bonus CD with song "Meteor". Each type includes a different T.M.Revolution x BODY WILD original woman's size-L underwear (not sold separately)(sample photo(s) below click to enlarge). Cover jacket and track list same on the Limited w/goods editions.
T.M.Revolution "UNDER:COVER 2" – release date February 20th 2013
Limited [CD+DVD] (¥3900)


Regular [CD] (¥3060)


[CD]
1. LEVEL 4 (UZUMAKI)
2. Aoi hekireki (Toshiyuki Kishi/Tomoyasu Hotei)
3. IMITATION CRIME (Ken Harada/JESSE[RIZE])
4. INVOKE (kz[livetune])
5. last resort (Kohsuke Oshima/May J.)
6. Dokusai -monopolize- (Daisuke Asakura/TATSUYA)
7. Totte oki no o hanashi (Shibasaki Hiroshi)
8. O.L. (Satoru Suzuki/Yashuaru Nakanishi)
9. Burnin' X'mas (INA)
10. SHAKIN' LOVE (IKUO/GazettE)
11. Out Of Orbit ~Triple ZERO~ (SHINGO[Agitato])
12. WILD RUSH (VERBAL[m-flo])
13. Albireo (Tom-H@ck)
14. vestige (Suguru Matsutani)
15. Tomorrow Meets Resitance (HOME MADE KAZOKU)
[DVD]
1. Digest live performance Inazuma Rock Fes 12 (2012.09.15/16)
[CD]
1. LEVEL 4 (UZUMAKI)
2. Aoi hekireki (Toshiyuki Kishi/Tomoyasu Hotei)
3. IMITATION CRIME (Ken Harada/JESSE[RIZE])
4. INVOKE (kz[livetune])
5. last resort (Kohsuke Oshima/May J.)
6. Dokusai -monopolize- (Daisuke Asakura/TATSUYA)
7. Totte oki no o hanashi (Shibasaki Hiroshi)
8. O.L. (Satoru Suzuki/Yashuaru Nakanishi)
9. Burnin' X'mas (INA)
10. SHAKIN' LOVE (IKUO/GazettE)
11. Out Of Orbit ~Triple ZERO~ (SHINGO[Agitato])
12. WILD RUSH (VERBAL[m-flo])
13. Albireo (Tom-H@ck)
14. vestige (Suguru Matsutani)
15. Tomorrow Meets Resitance (HOME MADE KAZOKU)
Limited A [CD+CD+Goods] (¥8000)



Limited B [CD+CD+Goods] (¥8000)



[CD1]
1. LEVEL 4 (UZUMAKI)
2. Aoi hekireki (Toshiyuki Kishi/Tomoyasu Hotei)
3. IMITATION CRIME (Ken Harada/JESSE[RIZE])
4. INVOKE (kz[livetune])
5. last resort (Kohsuke Oshima/May J.)
6. Dokusai -monopolize- (Daisuke Asakura/TATSUYA)
7. Totte oki no o hanashi (Shibasaki Hiroshi)
8. O.L. (Satoru Suzuki/Yashuaru Nakanishi)
9. Burnin' X'mas (INA)
10. SHAKIN' LOVE (IKUO/GazettE)
11. Out Of Orbit ~Triple ZERO~ (SHINGO[Agitato])
12. WILD RUSH (VERBAL[m-flo])
13. Albireo (Tom-H@ck)
14. vestige (Suguru Matsutani)
15. Tomorrow Meets Resitance (HOME MADE KAZOKU)
[CD2]
1. Meteor (Shogo Ohnishi[onetrap])
[CD]
(contents both CDs same as type A)
Limited C [CD+CD+Goods] (¥8000)



 
[CD]
(contents both CDs same as type A)
 
T.M.Revolution UNDER: COVER 2 special website