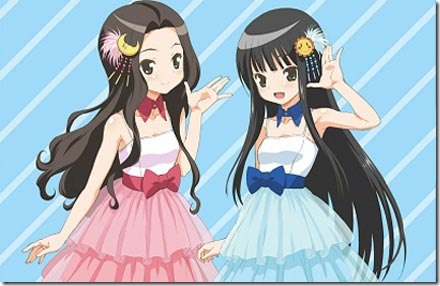 ClariS revealed the jacket covers, full track list, and more for new album PARTY TIME. Their 3rd album includes singles Colorful, CLICK, and STEP plus 9 new song for 12 total tracks. Album PARTY TIME comes on three editions hitting stores June 4th 2014 – updated details follow.
High School duo ClariS recently released 10th single STEP on April 16th 2014 (more details). The single's title track has tie-up as opening theme #2 for anime Nisekoi. Previously they provided its first opening theme with 9th single CLICK (2014.01.29)(more details). Also songs are a collaboration with composer kz (Livetune).
New album PARTY TIME also includes their 8th single Colorful (2013.10.30) featured as the opening theme for anime movie Puella Magi Madoka Magica Rebellion.
New album PARTY TIME comes on three editions that share the same CD-track list. Special Limited edition (sold out most stores) includes ClariS figures Nendorid Petit reunion version,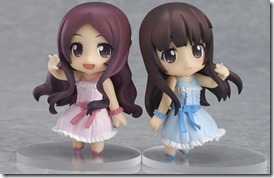 Most stores offer purchase bonus poster (while supplies last),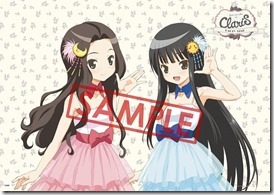 Selected stores offer alternate bonus (Gamers double-sided poster, animate clear-file, softmap clear-file, Toranoana clear-file)
ClariS – PARTY TIME – release date June 4th 2014
Limited A [CD+Goods] (¥4900)

Limited B [CD+DVD] (¥3500)

[CD]
1. Drawing
2. CLICK
3. Nemuri HIme
4. Time
5. RESTART
6. Koinomi
7. STEP
8. Dried Flowers
9. Topaz
10. Kakurenbo
11. Colorful
12. Orange
[CD]
1. Drawing
2. CLICK
3. Nemuri HIme
4. Time
5. RESTART
6. Koinomi
7. STEP
8. Dried Flowers
9. Topaz
10. Kakurenbo
11. Colorful
12. Orange
[DVD]
1. Colorful (music video)
2. CLICK (music video)
3. STEP (music video)
4. OP Oreimo season 2 (textless)
5. OP Puella Magi Madoka Magica Rebellion (textless)
6. OP Nisekoi (textless)
7. TVCM spots
Regular [CD] (¥2913)

[CD]
1. Drawing
2. CLICK
3. Nemuri HIme
4. Time
5. RESTART
6. Koinomi
7. STEP
8. Dried Flowers
9. Topaz
10. Kakurenbo
11. Colorful
12. Orange