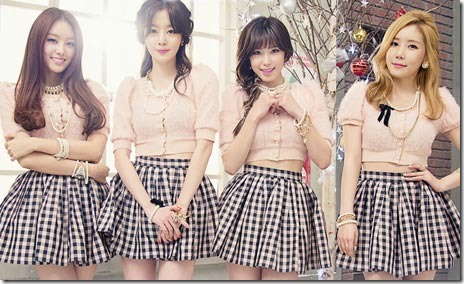 Secret announced a new Japanese single – untitled – (YooHoo) set for release on July 23rd 2014. Not too many details yet but it will come on two editions with the Limited adding a photo booklet in addition to the bonus DVD. Fans have waited over 5 months for the new release – read on for more early details and pre-order…
Korean group Secret most recently released 4th Japanese single I Do I Do on February 5th 2014. It was their first release in Japan in almost a year and a half and first since transferring record labels to Universal Music Japan.
To support their upcoming new Japanese single Secret is immediately holding launch events featuring a mini-live and handshake meeting. Participation by reserving the new single at the venue or during their Sweet Spring live event happening today at Sakura Hall Shibuya,
– June 1st 1:00pm 2014 Venus Fort Odaiba
– June 1st 5:30pm & 8:00pm 2014 Tower Records Shibuya
– June 2nd 3:00pm, 5:00pm, 7:00pm 2014 Tower Records Shibuya
– June 3rd 1:00pm & 3:00pm 2014 Venus Fort Odaiba
Secret's new Japanese single comes on two editions (details subject to change). Limited includes deluxe photo booklet. Both editions include trading card (1 of 4).
More details coming – follow Comtrya Sugoi for updates.
Secret – 5th single (YooHoo) – release date July 23rd 2014
Limited [CD+DVD+Photobook] (¥2315)


Regular [CD] (¥926)


[CD]
contents undecided
[DVD]
contents undecided
[CD]
contents undecided
Secret official website/fan club