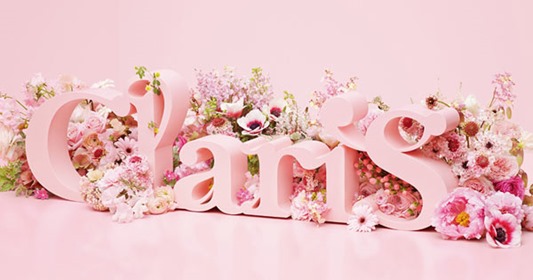 ClariS is getting ready to release a singles compilation album SINGLE BEST 1st and unveiled the jacket covers and singles TVCM spots vol. 2. The album includes their 11 singles plus 3 limited release songs. Album SINGLE BEST 1st comes on four editions including a special version bundled with 4 types of transparent ClariS Nendroid Petit figures. All hit stores April 15th 2015 – updated details and PVs follow.
Anisong unit ClairS with members junior high school students Alice and Clara debuted in 2010 with song Drop bundled with the debut of anime music magazine LisAni!. They later released first single irony (2010.10.20) featured as the opening theme for anime Oreimo. Their follow-up 2nd single Connect (2011.02.02) has tie-up as the opening theme for very popular anime Puella Magi Madoka Magica.
About one week before ClariS released their 3rd album Party Time (June 4th 2014) came the surprise announcement that original member Alice decided to graduate from the group. This fall ClariS renewed activities with the announcement of new member Karen and as with their original debut the new unit released first song Clear Sky bundled with anime magazine LisAni! Vol. 19 (2014.11.08).
The re-newed ClariS released 11th single border (2015.01.07) with tie-up as the ending theme for anime Tsukimonogatari.
Album SINGLE BEST 1st comes on four editions in Clara – Pink and Karen – Mint Green jacket covers. Limited editions with DVD or Blu-ray include music video collection for their 11 singles. Special Limited includes 4 types of transparent ClariS Nendroid Petit,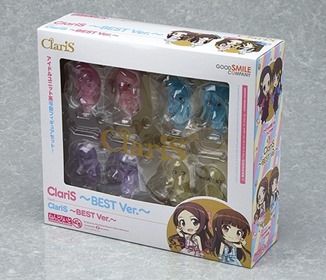 Single TVCM spot compilation videos Vol 2. and Vol 1. after the release details
ClariS – SINGLE BEST 1st – April 15th 2015
Limited A [CD+BD] (¥3889)


Limited B [CD+DVD] (¥3704)


[CD]
1. irony (1st sgl)
2. Connect (2nd sgl)
3. nexus (3rd sgl)
4. Naisho no Hanashi (4th sgl) 
5. Wake Up (5th sgl)
6. Luminous (6th sgl) 
7. reunion (7th sgl)
8. Colorful (8th sgl)
9. CLICK (9th sgl)
10. STEP (10th sgl)
11. border (11th sgl)
12. DROP
13. Kimi no Yume wo miyou
14. Clear Sky
[BD]
Music video compilation (11 singles)
[CD]
1. irony
2. Connect
3. nexus
4. Naisho no Hanashi
5. Wake Up
6. Luminous
7. reunion
8. Colorful
9. CLICK
10. STEP
11. border
12. DROP
13. Kimi no Yume wo miyou
14. Clear Sky
[BD]
Music video compilation (11 singles)
Special [CD+Nendroid] (¥8148)


Regular [CD] (¥2913)


[CD]
1. irony
2. Connect
3. nexus
4. Naisho no Hanashi
5. Wake Up
6. Luminous
7. reunion
8. Colorful
9. CLICK
10. STEP
11. border
12. DROP
13. Kimi no Yume wo miyou
14. Clear Sky
[CD]
1. irony
2. Connect
3. nexus
4. Naisho no Hanashi
5. Wake Up
6. Luminous
7. reunion
8. Colorful
9. CLICK
10. STEP
11. border
12. DROP
13. Kimi no Yume wo miyou
14. Clear Sky