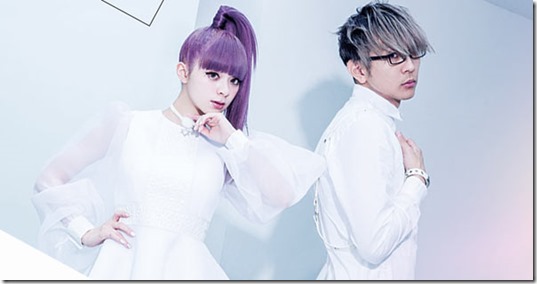 GARNiDELiA unveiled a preview music video for new song PRIDE plus an audio preview video covering most songs on their 1st album Linkage Ring. Their first album includes singles, indie releases, new songs, and more for 13 total tracks. Album Linkage Ring comes on three editions releasing January 21st 2015 – all the details and PVs follow.
Energetic rock unit GARNiDELiA major label debut with single ambiguous on March 5th 2014. The single has tie-up as OP2 for popular anime Kill la Kill. Their 2nd single grilletto released July 30th 2014 with tie-up as OP2 for The irregular at magic high school.
GARNiDELiA consists of producer Abe Yoshinori "Toku" and vocalist Mizuhashi Mai "Maria". Their initial collaboration on song Color credited as MARiA released in 2011 and was featured as opening theme for anime Freezing. Before their major label debut they made several indie releases on NicoNico Douga site including big hit Lamb..
Most recently they released 3rd single BLAZING on October 29th 2014 with tie-up as the opening theme for anime Gundam Reconquista in G.
Album Linkage Ring comes on three editions. Limited editions include music videos for their three singles plus live performance footage captured at the sold out GARNiDELiA 1st solo live event stellacage held October 2nd 2014 at Tsuyaya O-WEST.
Preview music video for new song PRIDE and album audio preview both after the release details.
GARNiDELiA – Linkage Ring – release date January 21st 2015
Limited A [CD+BD] (¥3685)


Limited B [CD+DVD] (¥3315)


[CD]
1. PRIDE
2. True High (album mix)
3. Gravity
4. BLAZING
5. Futariza Ryuseigun
6. Moon Landind
7. march
8. Steps
9. Lamb.
10. Ookami Shoujo
11. grilletto
12. ambiguous
13. LiNKAGE
[BD]
1. ambiguous (music video)
2. grilletto (music video)
3. BLAZING (music video)
4. Live stellacage Tsutaya O-WEST Oct. 2nd 2014 (3 songs)
[CD]
1. PRIDE
2. True High (album mix)
3. Gravity
4. BLAZING
5. Futariza Ryuseigun
6. Moon Landind
7. march
8. Steps
9. Lamb.
10. Ookami Shoujo
11. grilletto
12. ambiguous
13. LiNKAGE
[DVD]
1. ambiguous (music video)
2. grilletto (music video)
3. BLAZING (music video)
4. Live stellacage Tsutaya O-WEST Oct. 2nd 2014 (3 songs)
Regular [CD] (¥2870)


[CD]
1. PRIDE
2. True High (album mix)
3. Gravity
4. BLAZING
5. Futariza Ryuseigun
6. Moon Landind
7. march
8. Steps
9. Lamb.
10. Ookami Shoujo
11. grilletto
12. ambiguous
13. LiNKAGE