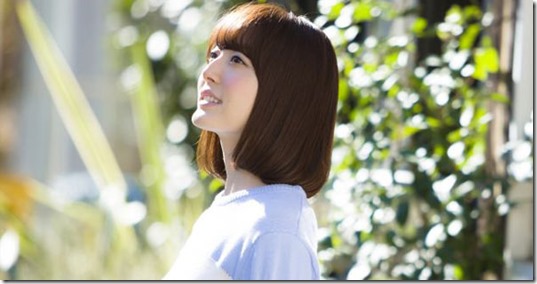 Kana Hanazawa (花澤香菜) announced new album Blue Avenue and live major hall tour in conjunction. Its been a year since she released 2nd album "25". Her 3rd album Blue Avenue is scheduled for release on April 22nd 2015 – more early release details follow. (*updated)
~ jacket covers and song digest video ~
Voice actress and singer Kana Hanazawa (26) just released 8th single Kimi ga Inakucha Dame Nanda (君がいなくちゃだめなんだ) on February 25th 2015 (her birthday!). The single gets tie-up as the theme song for live-action movie of the same name and staring Kana Hanazawa.
Previous she released 7th single Kokyutosu (こきゅうとす) on December 24th 2014 and 6th single Hohoemi Mode on October 1st 2014.
Now in her 3rd year as a solo singer Kana Hanazawa continues as a top voice actor with lead and key rolls this Winter season – Sonohara Anri (Durarara!! X2), Tsunemori Akane (Psycho-Pass movie), and Ezekiel (Maria the Virgin Witch).
New album Blue Avenue gets a live tour tie-up – Kana Hanazawa Live 2015 – Blue Avenue with five major hall performances scheduled. The tour kicks off at the venerable Nippon Budokan May 3rd 2015. Early ticket lottery application (Feb 25th – March 4th) included with her 8th single Kimi ga Inakucha Dame Nanda,
– May 3rd 2015 5:00pm Nippon Budokan
– June 6th 2015 5:00pm Fukuoka Civic Hall
– June 14th 2015 5:00pm Grand Cube Osaka
– June 20th 2015 5:00pm NGK Civic Hall Nagoya
– July 12th 2015 5:00pm Izumiti 21 Large Hall
Album Blue Avenue comes on two editions (details subject to change). Limited includes slip-case, photo booklet, and blu-ray is planned to include original movie.
Full track list, jacket covers, and more details coming!
(pre-order links and details updated 2015.02.26)
Kana Hanazawa – Blue Avenue – release date April 22nd 2015
Limited [CD+BD] (¥3800)


Regular [CD] (¥3000)


[CD]
1. Kimi ga Inakucha Dame Nanda (8th sngl)
2. Kokyutosu (7th sngl)
3. Hohoemi Mode (6th sngl)
4. – 14. undecided
[BD]
Original movie
[CD]
1. Kimi ga Inakucha Dame Nanda 
2. Kokyutosu 
3. Hohoemi Mode 
4. – 14. undecided