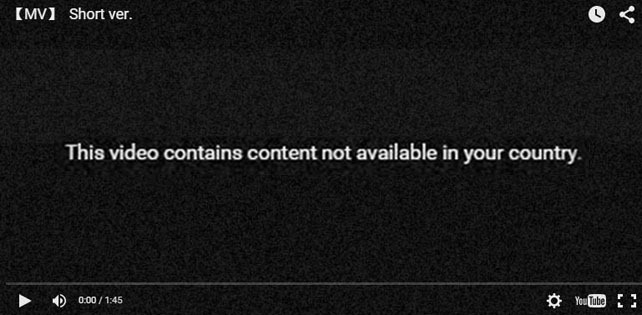 Starting October 23th 2015 YouTube policy changes centered on their new pay subscription service YouTube RED has caused many Japanese artist channels to be blocked for viewers in USA. YouTube RED is a new subscription service where for $9.99 a month you get an ad-free YouTube plus access to streaming service YouTube Music, saving content offline, and some to-be determine exclusive content.
The launching of YouTube RED has had some detractors though YouTube has officially claimed the nearly all partners have signed the agreement but clearly not all. Sports network ESPN has pulled its content from YouTube and will instead use its own digital properties for the content.  YouTube stated that partners that do not agree to the new YouTube RED will find their videos unavailable to viewers. Since YouTube RED is currently only available in the USA the blockage is limited to the USA (for now).

Its clear that many of the Japanese record labels and artists haven't yet agreed with YouTube RED and we can hope they are still reviewing the rights and legalities of the new policy. Currently blocked channels to viewers in USA include,
– AKB48 and sister group sites (SKE48, NMB48, HKT48, NGT48, JKT48)
– Pony Canyon
– Victor Entertainment and its artist channels
– Columbia Music Japan and its artist channels
– Up-Front and its artist channels (Morning Musume, Juice=Juice, etc…)
– previously available SMEj (Sony Music Japan) artists such as SCANDAL and Ling tosite sigure
– Korean artist Japanese channels
– numerous smaller and indie Japanese label channels.
Not all are blocked – Avex Entertainment and Lantis Records videos continue to be playable.
The Japanese are historically very protective and diligent regarding rights to creative properties. As YouTube continues to roll-out its Red service to more countries Japanese music fans world wide may start seeing the dreaded "This video contains content not available in your country".
We can all hope that a resolution to these issues happens quickly.
sources: AramaJapan, Huffington Post, Gizmodo, YouTube-Global