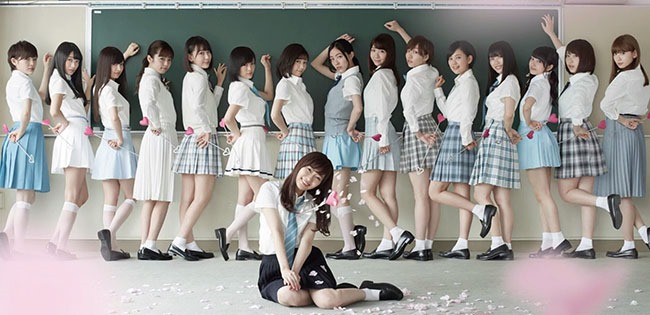 AKB48 releases their new single – LOVE TRIP / Shiawase wo Wakenasai (しあわせを分けなさい) on August 31st 2016. They revealed music videos and more release details for their first ever double a-side single. Their 45th single LOVE TRIP / Shiawase wo Wakenasai comes on 10 editions plus a theater version. Release details and music videos follow.
Most recently AKB48 released 44th single Tsubasa wa Iranai (翼はいらない) on June 1st 2016. The single contained the voting ticket for fan selection of members for this single. The 8th Senbatsu Sousenkyo fan voting event happened June 18th 2016 at Hard Off ECO stadium in Niigata – the top 16 participate on the 45th single's title tracks,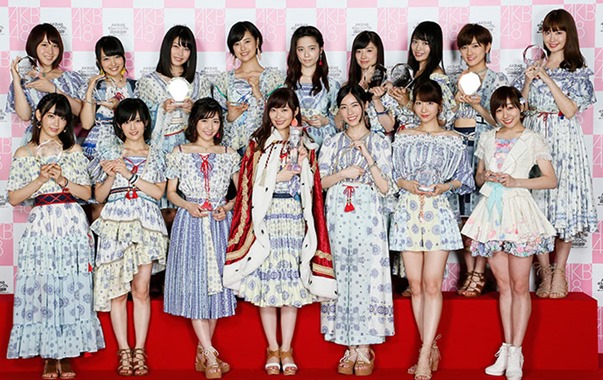 Sashihara Rino (center), (back row) Takahashi Juri*, Mukaichi Mion*, Yokoyama Yui, Kodama Haruka*, Shimazaki Haruka, Muto Tomu, Kitahara Rie, Okada Nana*, Kojima Haruna (Nyan Nyan Kamen), (front row) Miyawaki Sakura, Yamamoto Sayaka, Watanabe Mayu, Matsui Jurina, Kashiwagi Yuki, Suda Akari
*first time voted into the top 16
The new single features two title tracks plus a main coupling track all with tie-ups: LOVE TRIP featured as opening theme for live-action drama series adaption of The Girl Who Leapt Through Time (Toki wo Kakeru Shojo, 時をかける少女). The live-action drama started July 9th 2016 on NTV and stars Kuroshima Yuina and Kikuchi Fuma (Sexy Zone).
Title track Shiawase wo Wakenasai featured as CM song for Zexy wedding/marriage preparation and main coupling track Hikari to Kage no Hibi (光と影の日々) has important tie-up as cheer song for the 98th National High School Baseball Championship Asahi TV broadcast (Netto Koshien).
Single LOVE TRIP / Shiawase wo Wakenasai comes on 5-pairs of editions plus the theater version. Limited editions include handshake event ticket while the Regular editions include member photo(s). Each edition includes different coupling track. First Press versions add additional member photo from set that varies by store of purchase.
Music videos the the three main tracks after the release details.
AKB48 – LOVE TRIP / Shiawase wo Wakenasai – release date August 31st 2016
| | |
| --- | --- |
| Limited A [CD+DVD] (¥1524) | Regular A [CD+DVD] (¥1524) |
[CD]
1. LOVE TRIP
2. Shiawase wo Wakenasai (しあわせを分けなさい)
3. Hikari to Kage no Hibi (光と影の日々)
4. Densetsu no Sakana (伝説の魚) (Undergirls)
5. LOVE TRIP (off vocal)
6. Shiawase wo Wakenasai (off vocal)
7. Hikari to Kage no Hibi (off vocal)
8. Densetsu no Sakana (off vocal)

[DVD]
1. LOVE TRIP (music video)
2. Shiawase wo Wakenasai (music video)
3. Hikari to Kage no Hibi (music video)
4. Densetsu no Sakana (music video)
| | |
| --- | --- |
| Limited B [CD+DVD] (¥1524) | Regular B [CD+DVD] (¥1524) |
[CD]
1. LOVE TRIP
2. Shiawase wo Wakenasai (しあわせを分けなさい)
3. Hikari to Kage no Hibi (光と影の日々)
4. Shinka Shitenee Jan (進化してねえじゃん) (Next Girls)
5. LOVE TRIP (off vocal)
6. Shiawase wo Wakenasai (off vocal)
7. Hikari to Kage no Hibi (off vocal)
8. Shinka Shitenee Jan (off vocal)

[DVD]
1. LOVE TRIP (music video)
2. Shiawase wo Wakenasai (music video)
3. Hikari to Kage no Hibi (music video)
4. Shinka Shitenee Jan (music video)
| | |
| --- | --- |
| Limited C [CD+DVD] (¥1524) | Regular C [CD+DVD] (¥1524) |
[CD]
1. LOVE TRIP
2. Shiawase wo Wakenasai (しあわせを分けなさい)
3. Hikari to Kage no Hibi (光と影の日々)
4. Kishi ga Mieru Umi Kara (岸が見える海から) (Future Girls)
5. LOVE TRIP (off vocal)
6. Shiawase wo Wakenasai (off vocal)
7. Hikari to Kage no Hibi (off vocal)
8. Kishi ga Mieru Umi Kara (off vocal)

[DVD]
1. LOVE TRIP (music video)
2. Shiawase wo Wakenasai (music video)
3. Hikari to Kage no Hibi (music video)
4. Kishi ga Mieru Umi Kara (music video)
| | |
| --- | --- |
| Limited D [CD+DVD] (¥1524) | Regular D [CD+DVD] (¥1524) |
[CD]
1. LOVE TRIP
2. Shiawase wo Wakenasai (しあわせを分けなさい)
3. Hikari to Kage no Hibi (光と影の日々)
4. 2016-nen no Invitation (2016年のInvitation) (Upcoming Girls)
5. LOVE TRIP (off vocal)
6. Shiawase wo Wakenasai (off vocal)
7. Hikari to Kage no Hibi (off vocal)
8. 2016-nen no Invitation (off vocal)

[DVD]
1. LOVE TRIP (music video)
2. Shiawase wo Wakenasai (music video)
3. Hikari to Kage no Hibi (music video)
4. 2016-nen no Invitation (music video)
5. Shiawase wo Wakenasai (MV long ver.)
| | |
| --- | --- |
| Limited E [CD+DVD] (¥1524) | Regular E [CD+DVD] (¥1524) |
[CD]
1. LOVE TRIP
2. Shiawase wo Wakenasai (しあわせを分けなさい)
3. Hikari to Kage no Hibi (光と影の日々)
4. Hikari no Naka e (光の中へ) (Baito AKB Paruru Selection) 
5. LOVE TRIP (off vocal)
6. Shiawase wo Wakenasai (off vocal)
7. Hikari to Kage no Hibi (off vocal)
8. Hikari no Naka e (off vocal)

[DVD]
1. LOVE TRIP (music video)
2. Shiawase wo Wakenasai (music video)
3. Hikari to Kage no Hibi (music video)
4. Hikari no Naka e (music video)
| | |
| --- | --- |
| Theater [CD] (¥952) | |
[CD]
1. LOVE TRIP
2. Shiawase wo Wakenasai (しあわせを分けなさい)
3. Hikari to Kage no Hibi (光と影の日々)
4. Black Flower (CROW'S BLOOD opening theme)
5. LOVE TRIP (off vocal)
6. Shiawase wo Wakenasai (off vocal)
7. Hikari to Kage no Hibi (off vocal)
8. Black Flower (off vocal)
LOVE TRIP
Shiawase wo Wakenasi
Hikari to Kage no Hibi
King Records (Chara-ani) Theater edition
The Girl Who Leapt Through Time (NTV)