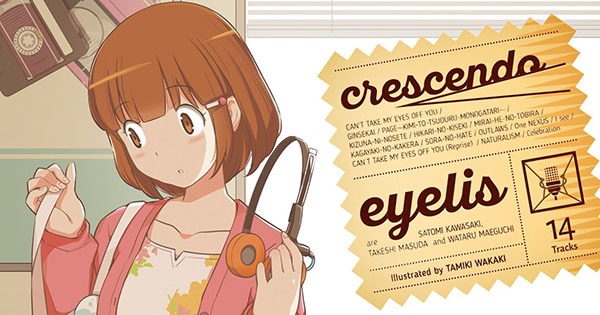 eyelis is getting ready to release album crescendo and recently revealed an album preview video. The unit's 1st original album includes their five singles, limited release songs plus new songs for 14 total tracks. Album crescendo comes on two editions hitting stores May 18th 2016.
Unit eyelis consists of three sound producers Satomi Kawasaki (vocals,keyboard), Takeshi Masuda (guitar,vocals), and Wataru Maeguchi (strings). They have composed and arranged songs for many anisong artists including Elisa (A Whole New World Good Only Knows OP anime The World God Only Knows), plus artists AKB48, NMB48, JUJU, and others.
Their first major label release was self-cover album – PRE-PRODUCTION (2012.05.30) that includes 12 anime tied songs they had written/composed for other artists. Satomi Kawasaki commented: "the album character Nonaka Kako-chan appeared on PRE-PRODUCTION as a high school student and new album crescendo four years later as College student" (via comic natalie).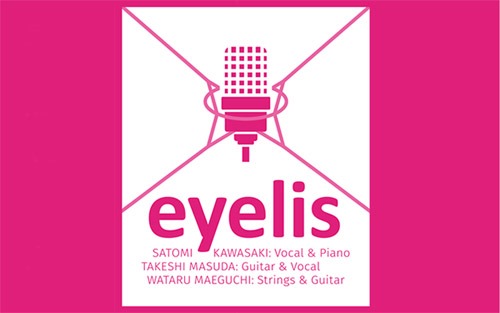 The new album includes their singles all with an anime tie-ups,
– CAN'T TAKE MY EYES OFF YOU 1st sgl 2012.11.14 (OP Hayate Combat Butler: Can't Take My Eyes Off You)
– Hikari no Kiseki / Mirai e no Tobira 2nd sgl 2012. 12.19 (themes OVA episodes for The World God Only Knows (TWGOK)
– OUTLAWS 3rd sgl 2013.01.30 (ED THE UNLIMITED – Hyobu Kyosuke)
– Kizuna ni Nosete (絆にのせて) 4th sgl 2015.08.19 (ED Snow White with the Red Hair)
– Page ~ Kimi to Tsuzuru Monogatari ~ (ページ~君と綴る物語~) 5th sgl 2016.02.03 (ED Snow White with the Red Hair 2 )
Album crescendo comes on two editions. Limited includes bonus CD with demo tracks plus liner notes booklet and slipcase,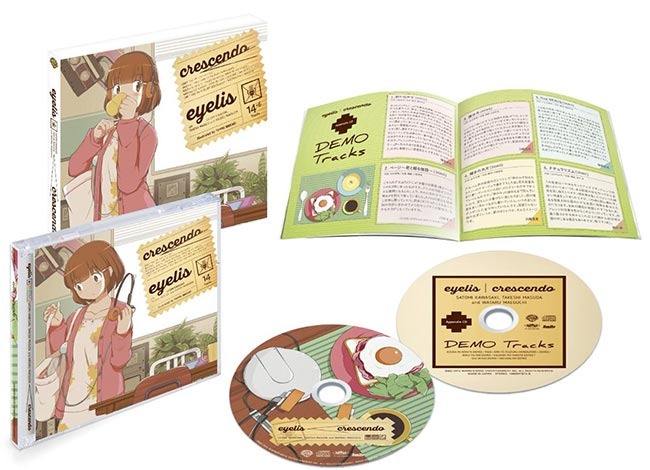 Album songs preview video after the release details.
eyelis – crescendo – release date May 18th 2016
Limited [CD+DVD] (¥3000)


Regular [CD] (¥2800)


[CD]
1. CAN'T TAKE MY EYES OFF YOU
2. Ginsekai
3. Page ~ Kimi to Tsuzuru Monogatari ~
4. Kizuna ni Nosete
5. Hikari no Kiseki
6. Mirai e no Tobira
7. Kagayaki no Kakera (new)
8. Sora no Hate
9. OUTLAWS
10. One NEXUS (new)
11. I see
12. CAN'T TAKE MY EYES OFF YOU (Reprise)
13. Naturalism (new)
14. Celebration

[CD]
1. Kizuna ni Nosete (demo)
2. Page ~ Kimi to Tsuzuru Monogatari ~ (demo)
3. Boku ha ima (demo)
4. Kagayaki no Kakera (demo)
5. One NEXUS (demo)
6. Naturalism (demo)

[CD]
1. CAN'T TAKE MY EYES OFF YOU
2. Ginsekai
3. Page ~ Kimi to Tsuzuru Monogatari ~
4. Kizuna ni Nosete
5. Hikari no Kiseki
6. Mirai e no Tobira
7. Kagayaki no Kakera (new)
8. Sora no Hate
9. OUTLAWS
10. One NEXUS (new)
11. I see
12. CAN'T TAKE MY EYES OFF YOU (Reprise)
13. Naturalism (new)
14. Celebration