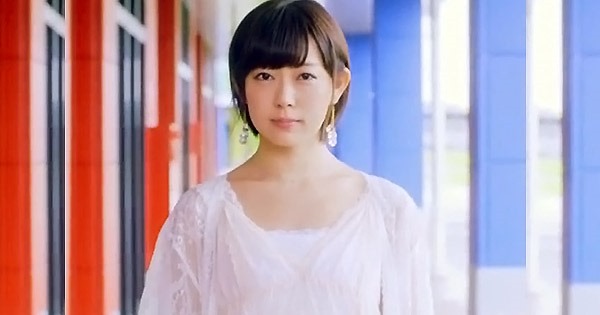 NMB48 unveiled preview music videos for new single Boku wa Inai (僕はいない). The single features graduating key member Watanabe Miyuki as center. Their 15th single Boku wa Inai comes on five editions scheduled for release on August 3rd 2016.
The AKB48 sister group based out of Nagoya most recently 14th Amagami Hime (甘噛み姫) on April 27th 2016. Their 15th single features a 16 member senbatsu (participating on single's title song),
Watanabe Miyuki*, Ota Yuuri, Kato Yuuka, Kishino Rika, Jonishi Kei, Suto Ririka, Yamamoto Sayaka, Yoshida Akari, Okita Ayaka, Shiroma Miru, Tanigawa Airi, Fujie Reina, Murase Sae, Yagura Fuuko, Shibuya Nagisa, Yabushita Shu
* first solo center
Original 1st gen member Watanabe "Milky" Miyuki (22) announced her graduation from NMB48 on April 13th 2016. She along with Yamamoto Sayaka have been the lead members of NMB48 since its 2010 beginning. Often referred to as SayaMilky they shared the center position on debut single Zetsumetsu Kurokami Shoujo and three others.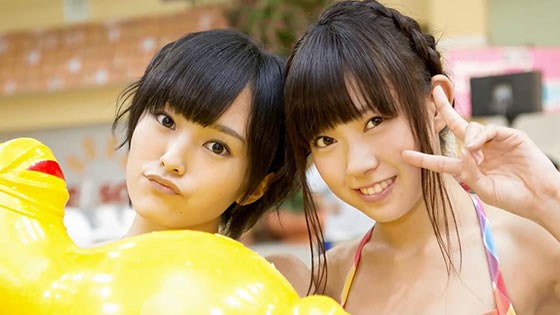 Watanabe Miyuki consistently in the top 20 of the AKB48 Group Senbatsu Sousenkyo she ranking #12 in the 2015 election (she didn't participate in 2016).
She also won the 5th AKB48 Group Janken Taikai (rock-paper-scissors) event and awarded a solo single release. Single Yasashiku Suru Yori Kiss wo Shite released December 24th 2014.
Single Boku wa Inai (僕はいない) comes on four editions plus a theater version. Each edition includes different coupling tracks and DVD contents. First Press versions include event ticket plus member photo randomly selected per Type. Additional photo included from set that varies by store of purchase.
Preview music videos for Boku wa Inai and Ima Naraba (今ならば) both after the release details.
NMB48 – Boku wa Inai – release date August 3rd 2016
| | |
| --- | --- |
| Type A [CD+DVD] (¥1524) | Type B [CD+DVD] (¥1524) |
[CD]
1. Boku wa Inai (僕はいない)
2. Ima Naraba (今ならば) (Yamamoto Sayaka, Watanabe Miyuki)
3A. Sora Kara Ai ga Futte Kuru (空から愛が降って来る)(Team N)
3B. Saigo no go Shakudama (最後の五尺玉)(Team M)
4. Boku wa Inai (off vocal)
5. Ima Naraba (off vocal)
6A. Sora Kara Ai ga Futte Kuru (off vocal)
6B. Saigo no go Shakudama (off vocal)

[DVD]
1. Boku wa Inai (music video)
2. Boku wa Ina (dance version)
3A. Sora Kara Ai ga Futte Kuru (music video)
3B. Saigo no go Shakudama (music video)
4A. NMB Live House @Zepp Namba (2016.03.30 night) Nishimura Aika Graduation Concert
4B. NMB Live House @Zepp Namba (2016.03.30 day)
| | |
| --- | --- |
| Type C [CD+DVD] (¥1524) | Type D [CD+DVD] (¥1524) |
[CD]
1. Boku wa Inai (僕はいない)
2. Ima Naraba (今ならば) (Yamamoto Sayaka, Watanabe Miyuki)
3C. Mousou Machine 3-gouki  (妄想マシーン3号機)(Team BII)
3B. Shortcut no Natsu (ショートカットの夏)(Suto Ririka solo)
4. Boku wa Inai (off vocal)
5. Ima Naraba (off vocal)
6A. Mousou Machine 3-gouki  (off vocal)
6B. Shortcut no Natsu  (off vocal)

[DVD]
1. Boku wa Inai (music video)
2. Boku wa Ina (dance version)
3C. Mousou Machine 3-gouki  (music video)
3D. Ima Naraba (music video)
4C. NMB Live House @Zepp Namba (2016.03.31 night) Umeda Ayaka Graduation Concert
4D. NMB feat. Yoshimoto Shinkigeki Vol. 15
5D. Boku wa Inai (making-of music video)
Theater [CD] (¥952)
        
[CD]
1. Boku wa Inai (僕はいない)
2. Ima Naraba (今ならば) (Yamamoto Sayaka, Watanabe Miyuki)
3. Yume no Nagori (夢の名残り)(Watanabe Miyuki solo)
4. Boku wa Inai (off vocal)
5. Ima Naraba (off vocal)
6. Yume no Nagori (off vocal)