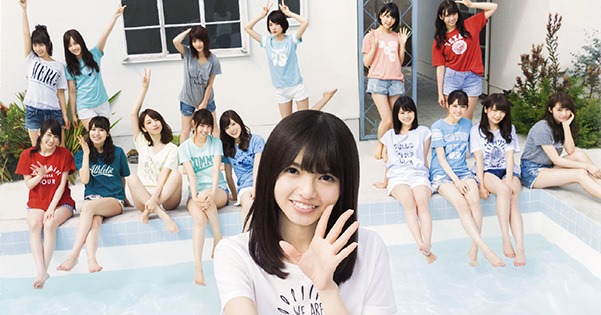 Nogizaka46 (乃木坂46) revealed jacket covers and more for new single Hadashi de Summer (裸足でSummer). The jacket photos are taken as "selfies" on location in Kujukuri, Chiba Prefecture. Single Hadashi de Summer comes on five editions hitting stores July 27th 2016.
Most recently the AKB48 rival/sister group Nogizaka46 released album Sorezore no Isu (それぞれの椅子) on May 25th 2016. Their 2nd album includes four singles plus 11 new songs spread across five editions.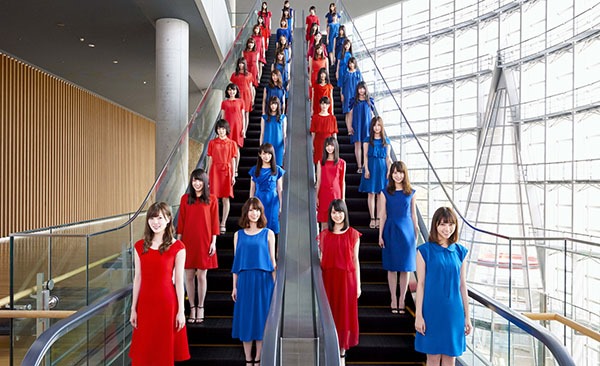 Their 15th single features first time center Saito Asuka (齋藤飛鳥)(17) who is the youngest member of Nogizaka46's first generation which debuted June 2011. She has been in and out of the senbatsu (members chosen for single's title song) since their debut single Guru Guru Curtain. For their 13th and 14th single she's was chosen as part of the Jyuu Fukujin (front members).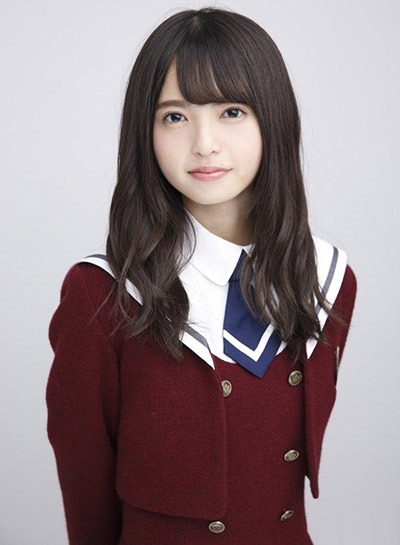 Single Hadashi de Summer comes on five editions. Each edition has different coupling track. Limited edition First Press include handshake event ticket and one member photo (4 x 35 = 140 different).
Nogizaka46 – Hadashi de Summer – release date July 27th 2016
| | |
| --- | --- |
| Limited A [CD+DVD] (¥1528) | Limited B [CD+DVD] (¥1528) |
[CD]
1. Hadashi de Summer (裸足でSummer)
2. Boku Dake no Hikari (僕だけの光)
3A. Offshore Girl (Shirasishi Mai solo)
3B. Inochi no Shinjitsu Musical (命の真実 ミュージカル) (Ikuta Erika solo) 

4. Hadashi de Summer (off vocal)
5. Boku Dake no Hikari (off vocal)
6A. Offshore Girl (off vocal)
6B. Inochi no Shinjitsu Musical (off vocal)

[DVD]
1. Hadashi de Summer (music video)
2A. Offshore Girl (music video)
2B. Inochi no Shinjitsu Musical (music video)
3A. Bonus video type A
3B. Bonus video type B
| | |
| --- | --- |
| Limited A [CD+DVD] (¥1528) | Limited B [CD+DVD] (¥1528) |
[CD]
1. Hadashi de Summer (裸足でSummer)
2. Boku Dake no Hikari (僕だけの光)
3C. Hakumai Sama (白米様) (Ito Karin, Sasaki Kotoko, Terada Ranze, Matsumura Sayuri)
3D. Secret Graffiti (Unders)

4. Hadashi de Summer (off vocal)
5. Boku Dake no Hikari (off vocal)
6C. Hakumai Sama (off vocal)
6D. Secret Graffiti (off vocal)

[DVD]
1. Hadashi de Summer (music video)
2C. Hakumai Sama (music video)
2D. Secret Graffiti (music video)
3C. Bonus video type C
3D. Bonus video type D
| | |
| --- | --- |
| Regular [CD] (¥976) |   |
[CD]
1. Hadashi de Summer
2. Boku Dake no Hikari
3. Ikuate no Nai Bokutachi (行くあてのない僕たち) (Ito Marika, Inoue Sayuri)
4. Hadashi de Summer (off vocal)
5. Boku Dake no Hikari (off vocal)
6. Ikuate no Nai Bokutachi (off vocal)