September 14, 2010
-
Latest Crunchyroll Anime Videos
Auction #2 is live for 3 spare parts, 3 decals for 59-foot Gundam statue current high bid at 313,100¥ with 39 bidders (9/14)
Update: Auction has ended with 51 bidders and a winning bid of 323,100¥ (approximately $3,765USD)
---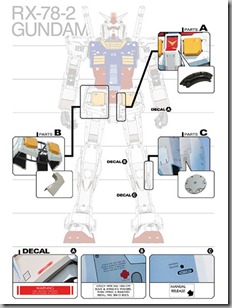 Yahoo Auctions! Japan has another set of spare parts and decals from the 1/1-scale Gundam RX-78. The auction started on 9/13 and will run to 9/20 12:17AM PDT. The auction proceeds will again benefit the Japanese charity (Committee) "Vaccines for the World's Children." 
The fiberglass-reinforced plastic parts with an urethane-resin coating were previously on display at the Gundam Super Expo, which ran into Tokyo from August 10 to 19.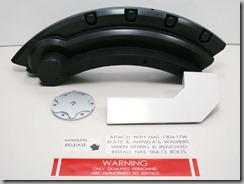 The three parts shown below are similar to the first set of auction parts. The largest part "A" (left) appears identical from the first set and is a part of the hip joint, part "B" is from the mid-skirt, and part "C" is described as an exterior detail piece. The clear acrylic film decals were made on a thermal wax printer and would have been used on the lower arms and lower legs.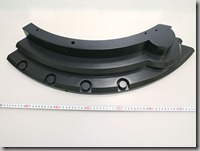 You can learn more about this life-size Gundam RX-78 from our previous post, Gundam stands at the central Japanese city of Shizuoka.  {no more on jump}
Images © Sotsu, Sunrise, auctions.yahoo.co.jp