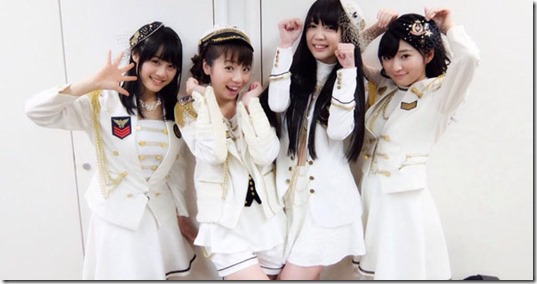 StylipS provides ending theme Mayomayo Compass wa Iranai (迷々コンパスはいらない) for anime Gundam Build Fighters season 2 (Gundam Build Fighters Try). They revealed a preview music video for their 7th single which comes on two editions. Single Mayomayo Compass wa Iranai hits stores March 4th 2015 – more details and PVs follow.
~ updated details and song previews ~
Idol group StylipS, currently formed by singer/voice actors Ito Miku, Toyota Moe, Matsunaga Maho, and Noto Arisa, most recently they released 3rd album THE SUPERNOVA STRIKES on November 26th 2014 (more details).
Upcoming live events tied to their 3rd album – StylipS FIRST LIVE TOUR 2015 THE SUPERSONIC SUPERNOVA scheduled for 3 venues. More details and ticket information at their official website (link below),
– March 22nd 2015 4:30pm MID Nagoya
– March 28th 2015 4:30pm ESAKA MUSE Osaka
– April 19th 2015 4:00pm Tokyo Dome City Hall
Anime Gundam Build Fighters takes place in modern-day Japan centering around Gunpla Battle Championship World Tournament. Teams build model Gundams and form battle strategies facing the challenge of winning the tournament. Season one followed Iori Sei and Reiji on their path to winning the tournament. Season two takes place 7 years later with Iori working to form new team TRY FIGHTERS challenging to become to best Gunpla team in the world.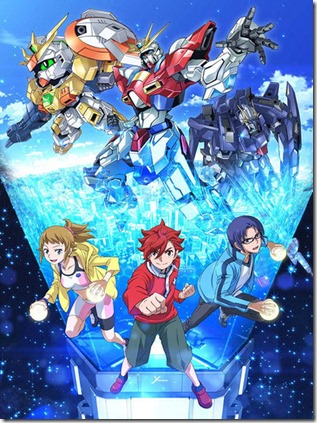 The anime's second season Gundam Build Fighters Try began airing October 8th 2014 and continues this Winter 2015 anime season. The anime is streamed to select countries with subtitles at http://en.gundam.info or on YouTube.
The new ending theme started airing with episodes in January 2015.
Single Mayomayo Compass wa Iranai (迷々コンパスはいらない) comes on two editions (details subject to change). Limited edition includes new member solo songs. Full track list, jacket covers, and more coming!
Preview music video and Gundam Build Fighters Try episode one after the release details.
StylipS – Mayomayo Compass wa Iranai – release date March 4th 2015
Limited [CD+DVD] (¥2000)


Anime  [CD] (¥1200)


[CD]
1. Mayomayo Compass wa Iranai
lyrcis: Hata Aki, music Takada Atsuki

2. undecided
3. undecided (Toyoda Moe solo)
4. undecided (Ito Miku solo)
[DVD]
1. Mayomayo Compass wa Iranai (music video)
2. bonus

[CD]
1. Mayomayo Compass wa Iranai
2. undecided
3. Mayomayo Compass wa Iranai (TV-size)
4. undecided (off vocal)
Gundam Build Fighters at TV Tokyo