Juggernaut of idol groups, AKB48 has unveiled the jacket covers to their 23rd single, "Kaze wa Fuiteiru". *Above is the DVD cover.
The costume design and color palate are a bit of a departure for AKB48 – muted green and a medieval nymph or fairy look with the backdrop of a misty forest. Bell sleeves, ethnic prints, and long feather earrings combine to create a look with surprising artistic and mature appeal.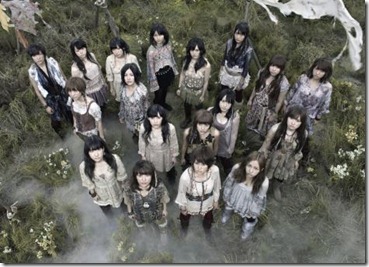 The new single includes fifteen members from AKB48, two from SKE48, and one from NMB48. For the b-side song the traditional Undergirls unit performs "Kimi na Senaka". Additionally, in a bit of a new move the AKB48 producers are pushing the often referenced-little used under-under units of Team A and Team K – now referring to them as Undergirls Bara and Undergirls Yuri. Each of these Undergirls units will have a b-side song performed depending on the edition of the single purchased. Can't just buy one edition….
For those who must, fortunately there will be only two different versions released, Type-A and Type-B, both coming with a DVD with the music videos, as well as a voting ticket for the upcoming "AKB48 Request Hour Set List Best 100 2012" event in January of 2012.
Limited Edition A


Maeda Atsuko, Oshima Yuuko, and Itano Tomomi

Limited Edition B


Kashiwagi Yuki, Takahashi Minami, and Watanabe Mayu

CD
1. Kaze wa Fuiteiru
2. Kimi na Senaka (Undergirls)
3. Vamos (Undergirls Bara)
4. Kaze wa Fuiteiru off vocal.
5. Kimi na Senaka off vocal
6. Vamos off vocal

DVD
1. Kaze wa Fuiteiru Music Video
2. Kimi na Senaka Music Video
3. Vamos Music Video
4. Kaze wa Fuiteiru Music Video (DANCE! DANCE! DANCE! ver.)
5. Bonus Clip AKB48 Skit "Pheromone Keiji"

CD
1. Kaze wa Fuiteiru
2. Kimi na Senaka (Undergirls)
3. Gondola Lift (Undergirls Yuri)
4. Kaze wa Fuiteiru off vocal
5. Kimi na Senaka off vocal
6. Gondola Lift off vocal

DVD
1. Kaze wa Fuiteiru Music Video
2. Kimi na Senaka Music Video
3. Gondola Lift Music Video
4. Kaze wa Fuiteiru Music Video (DANCE! DANCE! DANCE! ver.)
5. Bonus Clip AKB48 Skit "Taxi"
Source & Images : Oricon