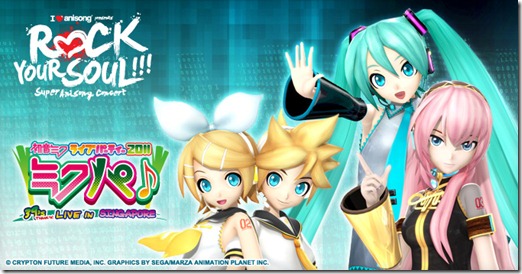 Anime Festival Asia (AFA) is hosting the "Hatsune Miku Live Party in Singapore 2011" concert November 11th at the SUNTEC Convention Hall as part of AFA's events. The concert and world-wide stream on NicoNico [here] will start 11/11 at 6:00am EST (3:00am PST) as a pay-per-view event for US$11.00. Japanese views can catch the concert on Nico Nico Douga. An archive "timeshift" version of the concert will be available until November 27th for NicoNico subscribers.
This concert will be Hatsune Miku's first concert in Asia outside Japan, and will be a "sequel" to her August  "Hatsune Miku Live Party 2011 39's LIVE in SAPPORO" concert.
Hatsune Miku world domination continues on jump,
---
In related events on November 10th, 9 cities across the United States Live Viewing Japan will host  simultaneous screening of the "Hatsune Miku Live Party 2011 39's LIVE in SAPPORO" concert.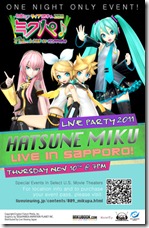 Baltimore, MD | Boston, MA | Chicago, IL | Houston, TX | Los Angeles, CA
New York, NY | Orange, CA | San Francisco, CA | Seattle, WA
Check theater details at Live Viewing Japan
Locations outside the United States will also host screenings of the concert film,
   Bangkok, Thailand (SF World Cinema) October 30th
   Singapore, Singapore (Golden Village) November 5th
   Sao Paolo, Brazil (UCI Cinemas Jardim Sul) November 5th
   Paris, France (CGR Torcy) November 9th
   England, London (Apollo Piccadilly Circus) November 29th
? Hatsune Miku: Created by Crypton Future Media to personify its vocal synthesize-song software package based on the YAMAHA Vocaloid software engine that allows users to synthesize vocal songs without a human singer. Crypton Future Media has a full line-up with other characters, and other companies have used the underlying Vocaloid software engine offer other character voice software packages.
Source: Anime Festival Asia (AFA) via ANN