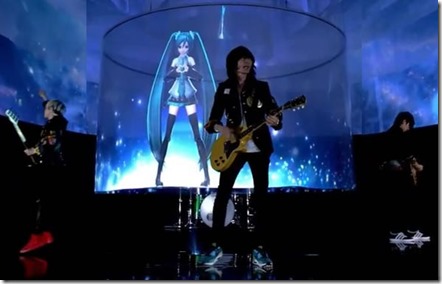 BUMP OF CHICKEN has just released 7th original album RAY on March 12th 2014. The album includes title song "ray" and they revealed a full music video for the song featuring vocaloid virtual idol Hatsune Miku. An interesting collaboration! Album RAY includes singles, new songs and more for 14 total track that comes on two editions. Read on for more release details and both versions of music video "ray".
Rock band BUMP OF CHICKEN new original album RAY is their first 3 years since the group released Cosmonaut (2010.12.15). Album RAY includes singles,
– firefly (2012.09.12) OP TV series Iki mo Dekinai
– Good Luck (2012.01.18) OP movie Always Sanchome no Yuhi '64
– Zero (2011.10.19) OP game Final Fantasy Type-0
– Smile (2011.05.11) charity single for Tohoku earthquake/tsunami
– Tomodachi no Uta (2011.02.23) OP anime movie Doraemon: Nobita and the New Steal Troops Winged Angels
The album also includes newest digital single Niji wo Matsu Hito that released August 21st 2013 and has tie-up as theme song for the Gatchaman live-action movie that premiered August 24th 2013.
BUMP OF CHICKEN's album RAY comes on two editions,
– Limited with DVD containing 6 music videos and 8 songs captured live at QVC Marine Field August 9th 2013
– Regular CD-only.
Both editions add bonus sticker(s) while supplies last,
Music video(s) for new song "ray" – normal version and feat. Hatsune Miku version both follow below the release details.
BUMP OF CHICKEN – RAY – release date March 12th 2014
Limited [CD+DVD] (¥3900)


Regular [CD] (¥3060)


[CD]
1. WILL
2. Niji wo Matsu Hito
3. Southern Cross
4. Last One
5. morning glow
6. Zero
7. Touchi
8. Smile
9. firefly
10. white note
11. Tomodachi no Uta
12. ray
13. (please)forgive
14. Good Luck
[DVD]
1. Niji wo Matsu Hito (music video)
2. Zero (music video)
3. Smile  (music video)
4. firefly  (music video)
5. Tomodachi no Uta  (music video)
6. Good Luck  (music video)
7. Live Stage of the ground QVC Marine Field 2013.08.09
– firefly
– Niji wo Matsu Hito
– Planetarium
– Hana no na
– Diamond
– MayDay
– K
– Tentai Kansoku
[CD]
1. WILL
2. Niji wo Matsu Hito
3. Southern Cross
4. Last One
5. morning glow
6. Zero
7. Touchi
8. Smile
9. firefly
10. white note
11. Tomodachi no Uta
12. ray
13. (please)forgive
14. Good Luck
BUMP OF CHICKEN Official website