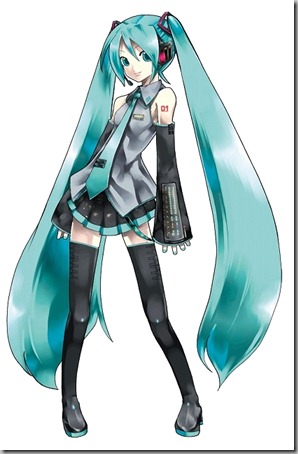 The Society for the Promotion of Japanese Animation (SPJA) has announced that virtual idol Hatsune Miku will hold a concert "Miku-Fes" at the 2011 Anime Expo convention. This will be the character's live concert debut in the United States.
The show at Anime Expo is based on Miku's "39's Giving Day" concert ("39 can be read as "Miku"), her first ever solo concert that was held in Japan on March 9, 2010. Visuals for the show will be provided by SEGA under the overall supervision of Crypton Future Media, the company that created the Vocaloid synthetic voice software used for Miku's music. The concert will feature holographic 3D projection, which was not used in the original "39?s Giving Day" concert.
Blogger Danny Choo, who is attending the convention as a guest of honor, revealed that he will also serve as MC for the concert and related events. According to Choo, the other Vocaloid characters Kagamine Rin, Kagamine Len, and Megurine Luka will also make appearances.
Miku was recently chosen as the image character for a U.S. ad campaign for Toyota's 2011 Corolla.
Anime Expo is being held on July 1-4 at the Los Angeles Convention Center. The concert will take place on July 2 at the Nokia Theater, sponsored by SPJA, Crypton Future Media, SEGA, Tokyo Kawaii Magazine, and Toyota.
Performance from Hatsune Miku Concert 3D
Source – ANN