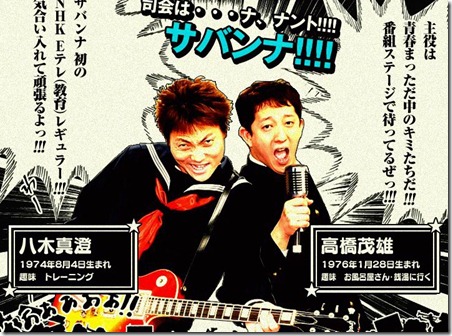 Television special School Live Show for Teens "Keion" will air this Friday the 28th (6:55-7:25pm) on the E-Tele, educational channel of the Japanese public broadcaster NHK. Inspired by the K-ON! anime, the reality show will profile seven real-life high school bands in Osaka and put them in a judged battle of the bands. The bands will perform cover songs of Mick Jagger and Momoe Yamaguchi.
The comedy duo Savanna will host the show (spash photo) along with voice overs by Takanori Nishikawa (T.M.Revolution) and Ippo Onodera. The judges include former Megadeth guitarist Marty Friedman and his tour mate Takayoshi Omura, the composer Akihito Tokunaga, and drummer "CHARGEEEEEE."
More info and photos after the jump,
Friedman and Tokunaga will also hold a "must-see" special session. Viewers will also get a special report presented by, AKB48 member Sae Miyazawa – "AKB48 no Totsugeki Report" – from the light music club of a high school in Tokyo.
There is another K-ON! inspired reality show "Toyosato Keion Koshien" that is a Japan-wide high school light music band competition. This show will hold their finals next month at school used as the model for K-ON! anime.
The K-ON!!! anime film is set to open December 3rd in Japan.
Source: ANN, NHK
Images © NHK