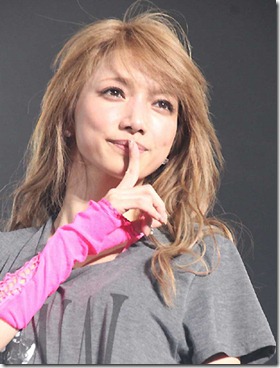 Maki Goto's  final live concert, "G-Emotion FINAL~for you~", was held at Chiba Makuhari Messe December 4th. The concert was performed twice on the 4th for the over 10,000 fans that gathered. A sometimes emotional Goto, who went with a concept of "the Goto Maki that Goto Maki wishes to see," performed 24 songs in 9 different outfits, as well as 2 special collaborations. More details and concert photos follow,
Goto at the age of 13 was one of the founding members of ongoing mega idol group Morning Musume and the concert gave fans a special collaboration with Dream Morning Musume (former Morning Musume members), as they and Goto performed the Morning Musume debut song, "LOVE Machine."
The concert also featured the popular duet song with Kishadan's Ayanokoji Sho "Non Stop love Yoroshiku!!"  Not collaborating but in attendance were other Hello!Project guest including Takahashi Ai, Mano Erina, and Satoda Mai.
Goto commented before the concert, "For my last concert before my hiatus, I wanted a show where I could enjoy it by becoming one with the fans. I wanted to show everyone the one-man live show I haven't done since I transferred to Avex."
Taking the stage for her encore an emotional Goto spoke to the audience, "Thank you very much! First, thank you so much for everything that has led-up to today. Above all, I'm grateful to have met the many fans, staff, and friends. I go on break tomorrow, but I'm so happy to hold a final stage performance while being watched over by my colleagues. During my break, I want to do my best while looking forward to the day we meet again. It was a long yet short, a short yet long 13 years. Thank you everyone. I'll never forget everyone, so don't forget or cheat on me!"
Source: Mantan-web