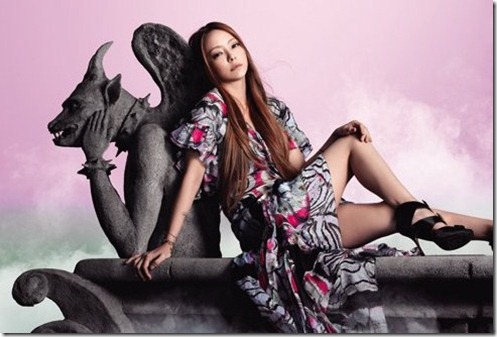 The newest single from Namie Amuro will be released on December 7th and will boast two A-side songs and will be titled "Sit!Stay!Wait!Down! /Love Story." The songs are currently featured as the opening and ending theme for the Fuji TV (Mondays at 9pm) drama, Watashi ga Renai Dekinai Riyuu. So calling this a double A-side single is legitimate.
Familiar Amuro producers T.KURA & MICHICO, worked on "Sit!Stay!Wait!Down!" and its said to be an unique dance number. Meanwhile, "Love Story" is described as a strong and painful ballad.
The single will come in a CD only Regular edition and a CD+DVD Limited edition. The DVD will have music videos for both songs.
Source: Namie Amuro Official website & cdjapan