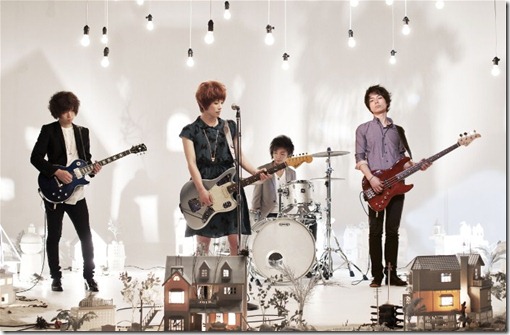 nano.RIPE has released their first album "Hoshi no yoru no myaku no oto no" which contains 14 songs including "Omokage Warp" that was featured as the opening theme to popular anime Hanasaku Iroha. Also included will be new arrangements of songs from their indie-music days – "Nokuchiruka" & "Sekai-ten" .
Just posted on nano.RIPE's blog their drummer shinn will be parting ways with the group after their November 12th performance at Shibuya QUATTRO! Words from shinn:
"Since the groups formation it has changed members several times. Over time our approach to music has changed little by little so that now there is much difference and in our future direction. After some discussions with members the conclusion was reached for my withdrawal.

I apologize for the suddenness of this during our live tour and thank you to all who support me. While I stop performing with nano.RIPE I will continue my future playing music.

I decided to go a separate way but I will sing on tour until our performance on November 12th.

Thank you, shinn"
Album details after jump
The Limited Edition comes with DVD of all their PV videos produced to date along with a new PV for  "Seratona." Additionally, some stores will provide a bonus CD with-off vocal versions of selected songs.
Regular Edition

Limited Edition

[CD]
1. Seratona
2. Hana no iro
3. Wait for the rain (Ame wo Matsu)
4. 15 seconds (Juugo Byou)
5. High Leap
6. Omokage Warp
7. Hatch
8. Plus of the Night of Stars (Hoshi no Yoru no Mkaku no Oto no)
9. Flash Keeper
10. Nokuchiruka
11. Patricia
12. Saibou Kioku
13. Sekai Ten
14. Tonohira no Marie
1. Seratona
2. Hana no iro
3. Wait for the rain (Ame wo Matsu)
4. 15 seconds (Juugo Byou)
5. High Leap
6. Omokage Warp
7. Hatch
8. Plus of the Night of Stars (Hoshi no Yoru no Mkaku no Oto no)
9. Flash Keeper
10. Nokuchiruka
11. Patricia
12. Saibou Kioku
13. Sekai Ten
14. Tonohira no Marie

---

[DVD]
1. Seratona (PV)
2. Omokage Warp (PV)
3. Saibou Kioku (PV)
4. Hana no Iro (PV)
5. Flash Keeper (PV)
6. Patricia (PV)
Source: natalie & nano.RIPE offical website