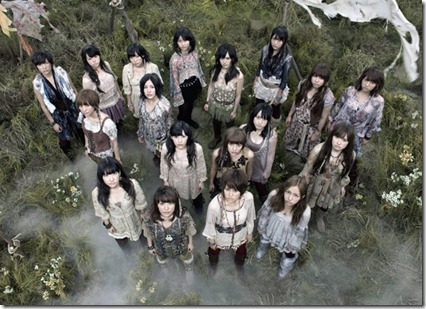 AKB48 took their turn blasting the charts with their single "Kaze wa Fuiteiru" selling over 1.3 million copies. Landing in second for the week was MBLAQ and their single "Baby U!" This single is also featured as the opening theme for anime Beelzebub.
Still showing strong was BUMP OF CHICKEN with their single "Zero" it was #2 in its opening week and held at #3 this past week. AKB48 sister group NMB48 hit the charts in the prior week at #1 with their 2nd single "Oh My God!" and this week it slipped back to the number 4 spot.
Fall anime theme songs from Sphere, Maaya Sakamoto, and cast of Boku wa Tomodachi ga Sukunai make the charts in the 7th, 8th and 10th spots respectively.
On the album side music from the Persona 4 game charted at #1 and Girls Generation's newest album "The Boys" (import for Japan) charted #2.
Complete charts follow after jump.
Singles for October 24th – 30th
| | | | | |
| --- | --- | --- | --- | --- |
| Rank | Group/Artist | Single Title | Released | Sold |
| 1 | AKB48 | Kaze wa Fuiteiru | Oct 26th | 1,300,482 |
| 2 | MBLAQ | Baby U! | Oct 26th | 42,624 |
| 3 | BUMP OF CHICKEN | Zero | Oct 19th | 35,019 |
| 4 | Ashida Mana | ~Gyu Gyu Good-Day~ | Oct 26th | 27,737 |
| 5 | NMB48 | Oh My God! | Oct 19th | 16,639 |
| 6 | KARA | Winter Magic | Oct 19th | 15,415 |
| 7 | Sphere | HIGH POWERED | Oct 26th | 14,902 |
| 8 | Maaya Sakamoto | Welcome Back | Oct 26th | 13,948 |
| 9 | SuG | Toy Soldier | Oct 26th | 12,188 |
| 10 | Making Friends Group | Zan'nen-kei rinjin-bu (-two and a half stars) | Oct 26th | 11,146 |
Albums for October 17th – 23th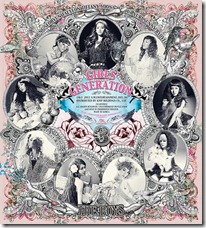 | | | | | |
| --- | --- | --- | --- | --- |
| Rank | Group/Artist | Album Title | Released | Sold |
| 1 | Persona 4 | Never More – "Person 4" Reincarnation | Oct 26th | 26,869 |
| 2 | Girls Generation | The Boys | Oct 26th | 21,227 |
| 3 | Coldplay | Mylo Xyloto (MX) | Oct 19th | 15,429 |
| 4 | back number | Superstar | Oct 26th | 10,519 |
| 5 | Kazuyoshi Saito | 45 STONES | Oct 19th | 10,466 |
| 6 | Noel Gallagher's High Flying Bird | Noel Gallagher's High Flying Bird | Oct 12th | 7,635 |
| 7 | A.N.JELL | TBS drama series "You're Beautiful" MUSIC COLLECTION | Oct 5th | 7,401 |
| 8 | Kimura Kaela | 8EIGHT8 | Oct 12th | 7,148 |
| 9 | Tohoshinki | TONE | Sept 28th | 7,091 |
| 10 | Tegomass | Magic of Tegomass | Oct 19th | 6989 |
Source: Oricon