December 19, 2011
-
toyNN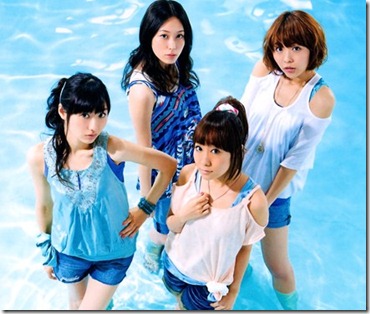 The girls of Sphere have been busy in 2011 and prepare for an even busier 2012. They've just announced a national tour "Sphere's Orbit Live Tour 2012" that will begin in April with stops through August. Also announced are Blu-ray/DVD releases for their TV variety show "Club Sphere" and for their 2 day live performances at Yoyogi National Stadium back in September 2011. Details follow,
Sphere, formed from 4 seiyuu's (voice actors), has become a solid idol group with the success of their single and album releases, live performances, and TV variety show. The girls are still voicing a number of characters in anime and foreign film dubs. Just a sample of their current and upcoming rolls -  Aki Toyosaki and Minako Kotobuki reprised their lead rolls in the recent K-ON! movie and will both appear in the upcoming Berserk anime movie. Haruka Tomatsu will voice the lead roll in anime "Ano Natsu de Matteru" which begins airing January 9th. And Ayahi Takagaki will sing the ending theme and have a roll in anime "Symphogear" beginning January 6th.
All the girls will star in the original anime "Natsurio Keseki" (Official website) being produced by Sunrise and will begin airing in 2012.
Release details for TV variety show – "Club Sphere"
DVD ¥3500/BD ¥4500, First Press bonus 3D clear folder, special feature: making of episodes
Vol 1 (eps 1-6)

Release: 12/7/2011
First Press: limited
Vol 2 (eps 7-11)

Release: 1/11/2012
First Press: limited
Vol 3 (eps 12-17)

Release: 2/1/2012
First Press: available
Release details for Yoyogi National Stadium 2 day concert (no cover jackets yet), 
DVD ¥6500/BD ¥8800, release date: 3/14/2012
1. "Sphere Live 2011 Athletic Harmonies – Dangerous Stage –"
DVD ¥6500/BD ¥8800, release date: 3/14/2012
2. "Sphere Live 2011 Athletic Harmonies – Climax Stage –"
National tour "Sphere's Orbit Live Tour 2012"
April 15, 2012 (Sun) Century Hall, Nagoya, Aichi
April 28, 2012 (Sat) Yokohama Arena, Kanagawa
April 29, 2012 (Sun) Yokohama Arena, Kanagawa
May 20, 2012 (Sun) Zepp Sendai in Miyagi Prefecture
May 26, 2012 (Sat) Grand Cube Osaka, Osaka
May 27, 2012 (Sun) Grand Cube Osaka, Osaka
June 2, 2012 (Sat) Tokushima, Tokushima City Cultural Center
June 17, 2012 (Sun) Hall Shizuoka Shimin Bunka Kaikan
July 15, 2012 (Sun) Zepp Sapporo, Hokkaido
August 11, 2012 (Sat), Kanagawa Prefectural Hall, Kanagawa
August 12, 2012 (Sun) Kanagawa Prefectural Hall, Kanagawa
August 19, 2012 (Sun) Fukuoka International Congress Center Main Hall
Source: natalie
Sphere Official website: Planet Sphere